Experience a Luxurious Airport Pickup in Paris with Private Car Service's Meet & Greet Transfer Services
Airport Transfer Service from CDG or Orly – The Smartest Option
Are you looking for a seamless and stress-free way to arrive in Paris? The solution is Private Car Service Paris. Our luxurious Meet & Greet airport PCSP Limousine Services in Paris Provides a Luxurious Way to Explore the International Capital of StyleHometransfer service will make your journey from the airport to your destination a breeze.

Private Car Service Paris strives to reduce the stress and uncertainty that come with visiting a new place, particularly when it comes to transportation. This prestigious transportation service has earned an amazing reputation in Paris for its persistent commitment to offering their clients a dependable, stress-free, and inexpensive transportation experience. In this blog post, we will look deeper into Private Car Service Paris's history and experience in providing transportation services in Paris, their highly regarded Meet & Greet service, additional services offered, price information, and notable client reviews and ratings.
Background and Experience
Private Car Service Paris was started in 2003 with the goal of giving customers going to and from Paris airports top-notch, reliable, and high-quality transportation services.Over time, the company added chauffeur services for business travelers and sightseeing tours for tourists to its list of services.Their professional driver crew is very skilled and knows a lot about the city. This makes sure that clients arrive safely and on time.
Airport Pickup With our Meet & Greet provides both convenience and elegance.
After a long journey from the United States, the last thing you want is to navigate public transportation or wait in line for a taxi. With Private Car Service Paris, you'll enjoy a VIP experience from the moment you step off the plane.
One of the features that sets Private Car Service Paris apart from other transportation companies is their highly regarded Meet & Greet service. This exclusive service was created to make clients' transportation experiences as simple and stress-free as possible.  Our Meet & Greet service will make airport pickup less stressful whether you are flying into CDG (Charles de Gaulle) or Orly.
Clients are greeted at the airport by a professional english-speaking driver holding a placard with their name on it. The driver then assists the client with their luggage and leads them to their vehicle. This service is especially useful for clients who are unfamiliar with the city or the layout of the airport.
Private Car Service Paris, unlike other airport transfer services in Paris, guarantees that the client will never have to wait for their driver. Their Meet & Greet service includes flight tracking, which makes sure that the driver is waiting for the customer at the airport even if the flight is late or changes.Private Car Service Paris is different from other ways to get around Paris because it is so reliable and easy to use.
We have a wide range of luxury vehicles to meet your needs.
Whether you're traveling alone or with a group, our vehicles are designed to meet your needs. Our sedans are perfect for solo travelers or couples, while our SUVs and minivans are ideal for families or larger groups.
Private Car Service Paris has a fleet of top-of-the-line luxury vehicles, including sedans, SUVs, and minivans. All of our cars are equipped with comfortable seating, air conditioning, and Wi-Fi to make your journey as comfortable as possible.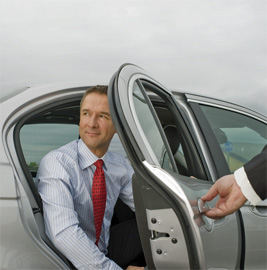 Expert Drivers with a Deep Knowledge of Paris
Our drivers are not only knowledgeable and professional, but they also have a deep understanding of Paris and its surroundings. They can recommend sights and attractions, as well as provide tips on the best restaurants and shopping areas. With Private Car Service Paris, you can be sure that your journey to your destination will be smooth, efficient, and enjoyable.
The Perfect Solution for High-Profile Travelers
Private Car Service Paris is the perfect solution for high-profile travelers who want to start their trip in style and comfort. Our Meet & Greet service and wide range of vehicles ensure that you will receive a premium service, while our competitive prices and expert drivers make us the ideal choice for travelers on a budget. We offer fixed rates with no hidden fees or charges, so you can budget your trip with confidence. Our team is available 24/7 to answer any questions and ensure that your experience with us is seamless from start to finish.
The Benefits of Choosing Private Car Service in Paris
Personalized service: Our drivers are knowledgeable and friendly, and they are committed to providing a personalized experience that meets your needs.
Safe and reliable transportation: Our drivers are experienced and have a thorough knowledge of Paris, guaranteeing that you arrive at your destination safely and on time.
Stress-free travel: With our Meet & Greet service, you can relax and enjoy the ride, knowing that all the details have been taken care of.
Affordable pricing: Our rates are competitive, and we offer flexible pricing options to meet your budget.
How to Book Your Paris Airport Pickup
Booking your Paris airport transfer with Private Car Service Paris is easy. Simply visit our website, select your vehicle, and enter your travel details. Our team will take care of the rest, and you can be sure that your driver will be waiting for you when you arrive.
So, if you're looking for a luxurious and convenient Paris airport pickup, look no further than Private Car Service Paris. With our Meet & Greet service, wide range of vehicles, expert drivers, and competitive prices, we are the ideal choice for travelers seeking a premium experience. Book your Paris airport pickup today and start your trip in style and comfort.
Additional Services Offered
In addition to airport transfers, Private Car Service Paris offers a range of other services to meet its clients' needs.Their chauffeur services are very popular with business travelers who need to get to meetings or events in a reliable and pleasant way.For leisure travelers interested in exploring the city's key sites, the company also offers sightseeing trips. Private Car Service Paris takes pride in being able to give each client services that are unique and flexible to their needs.