Airport Pickup Service in Paris : Private Transfers in Style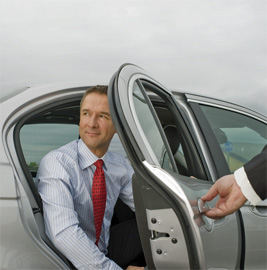 Arriving at a Paris airport, whether it's Orly or Charles de Gaulle, is the beginning of a cosmopolitan adventure. Start your adventure in style with airport pickup services from Private Car Services Paris.
Airport Transfer from CDG or Orly – The Smartest Option
The Ultimate in Comfort and Convenience
Exhausted from a long overseas flight? Your chauffeur will be at the gate to greet you as you make your arrival. Instead of fighting other passengers for a taxi, or arranging for transport with a cabbie who doesn't speak your language, you'll be escorted to your own private car, where a plush interior and complimentary beverages await.
There's no haggling over rates, or worries that an unscrupulous cabbie might take a roundabout route to raise your fee. You've arranged your Paris airport pick-up in advance. Your chauffeur can show you the sights of the city along the way to your hotel, or simply get you there as quickly as possible, according to your wishes.
There's no need to ask for directions. Your courteous, dependable driver knows Paris. He knows the quickest ways around our beautiful city – and he knows the most scenic drives when time is not an issue for you. Never stress about our heavy Paris traffic! Your chauffeur will get you to important appointments relaxed and on time.
Luxurious Options for Every Itinerary
PCS Paris is far more than simply the finest private airport transfer companies in Paris. Does your itinerary include an important corporate meeting, wedding or art opening? Arrive in your private car, make a grand entrance, and create the impression you desire.
No visit to Paris is complete without a tour of our spectacular architectural showplaces. We offer airport transfers and chauffeured tours, with or without your own private guide, of the most famous historic spots in the region, including the medieval Basilique St. Denis and the amazing Château de Versailles. Take advantage of our specially priced entry tickets for all of your museum and château tours.
We offer a number of restaurant and cabaret packages to make your stay exciting. Choose from day or night tours of Paris – we will provide a guide if you desire one. Our most popular Paris tour is our combination rest and cabaret tour, which we're sure you will enjoy!
Whether you're looking simply for Paris airport pickup or extended service for the duration of your stay, Private Car Service Paris has the options to meet your needs in luxurious comfort and timely convenience. Book your reservations today via e-mail or telephone to enjoy the very best of Paris!
We look forward to serving you.