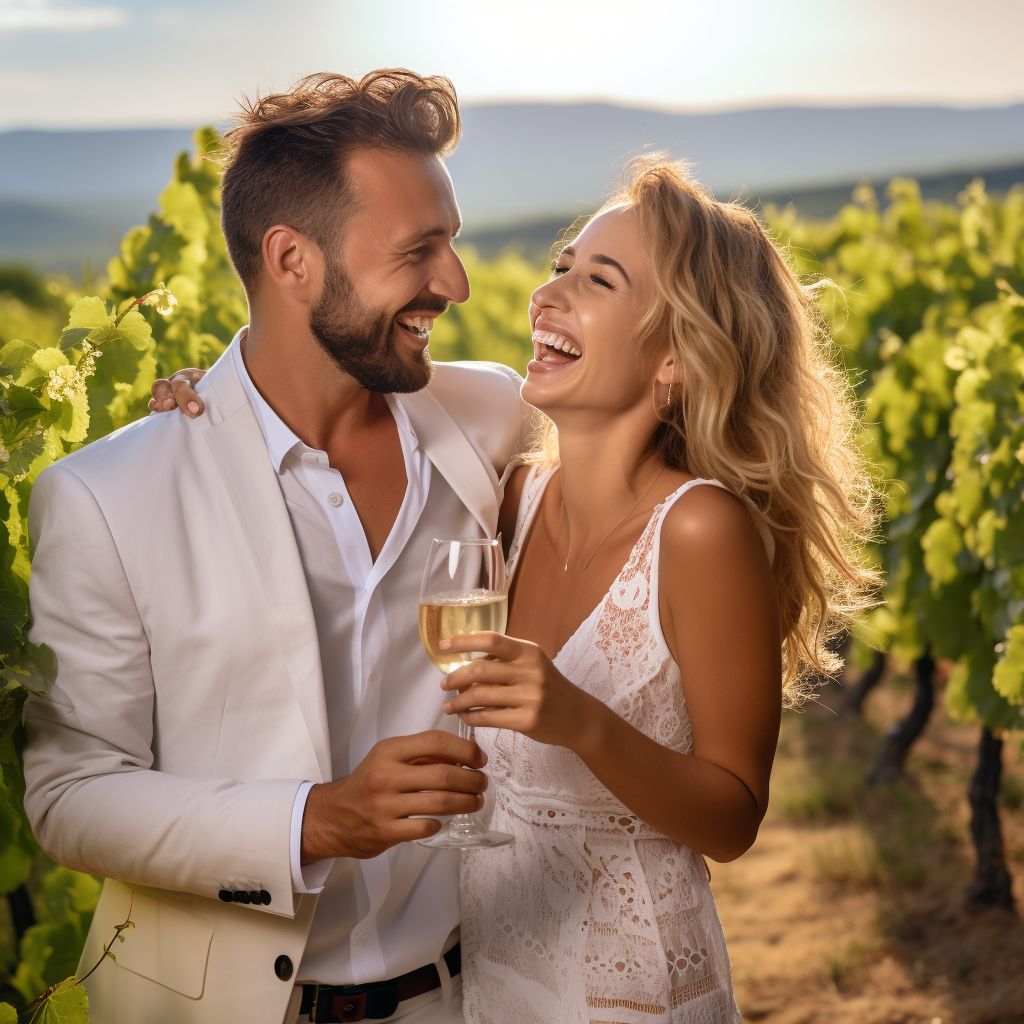 Navigating through the myriad of options for a Champagne tour from Paris can be overwhelming. Did you know that the renowned Champagne region is just 90 minutes away from Paris? This comprehensive guide simplifies your selection process by detailing the best champagne tours, tastings, and insider tips to enrich your wine country adventure.
Dive in, and let's add some sparkle to your trip!
Key Takeaways

Champagne tours from Paris give a look at how champagne is made and include tastings.
Tours vary from small group outings to private, luxury trips.
You can visit famous houses like Moët&Chandon or Veuve Clicquot on the tour.
Many tours offer delicious lunch options with views of vineyards.
Why book a Champagne tour from Paris?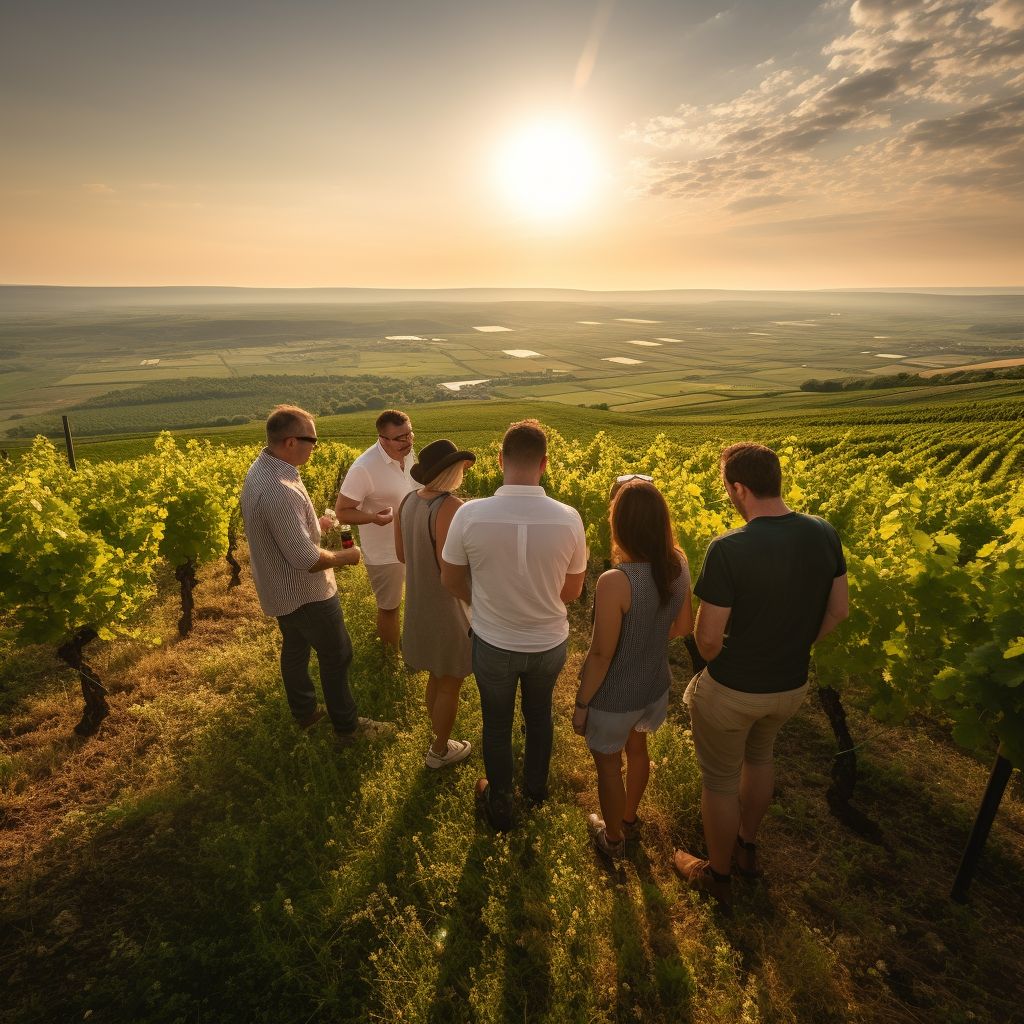 Booking a Champagne tour from Paris opens up a world of luxury and indulgence. Visitors get to explore the rich history of the Champagne region, with stops at renowned houses like Moët&Chandon or Veuve Clicquot for tastings.
The tours offer an encounter with some of France's most spectacular countryside landscapes, dotted with vineyards.
Opting for a day trip from Paris allows tourists to dive into the intricate process behind each bottle of sparkling wine, from cultivation and harvesting to fermentation and packaging.
The experience is not confined merely to tasting; it involves learning about different types of champagnes, their unique characteristics, and production techniques. With options ranging from small group tours to private champagne excursions tailored specifically according to preferences, there is truly something for everyone.
Choosing the Perfect Champagne Tour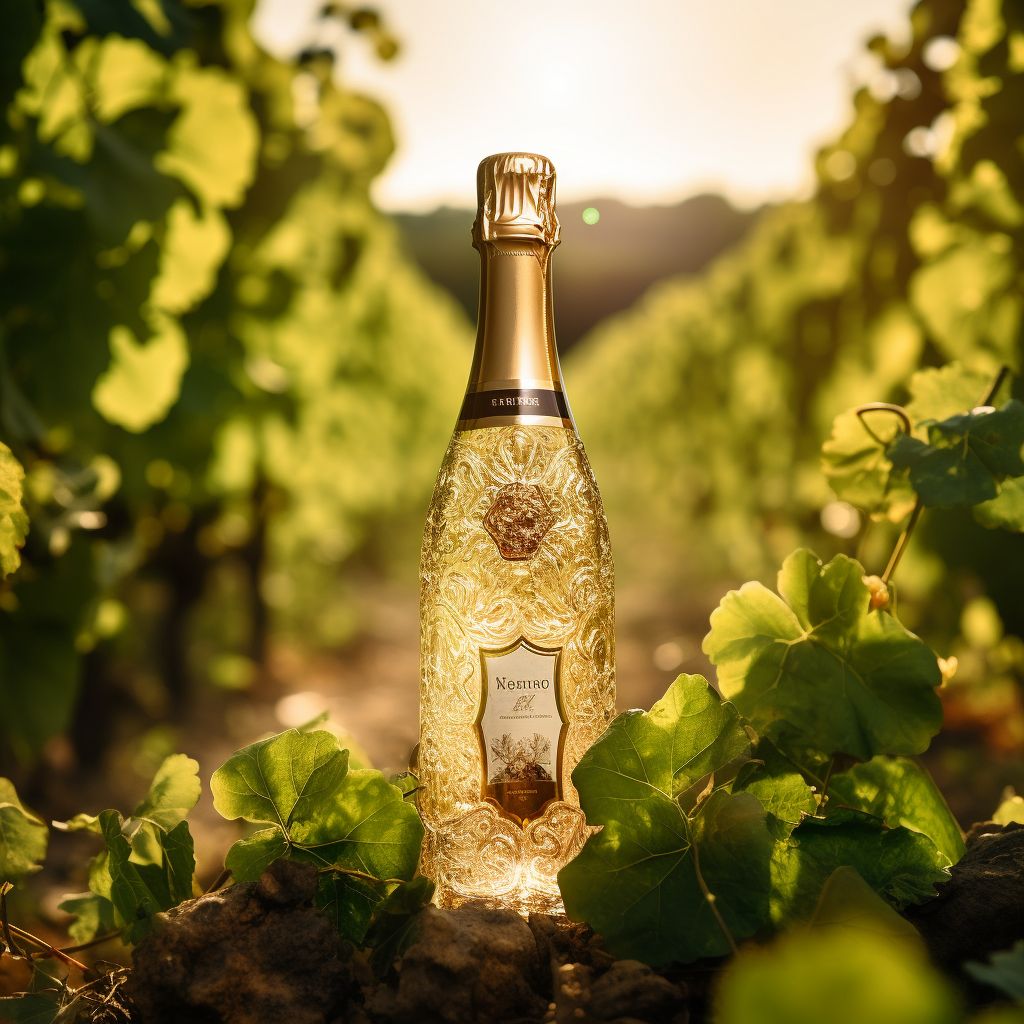 When choosing the perfect champagne tour, consider factors like your budget, preference for private or group tours, and specific champagne houses you may wish to visit. Types of tours vary from all-inclusive day trips with tastings and meals to more personalised options focusing on luxury champagne producers.
Each offers unique experiences that cater to different preferences and expectations; the key is finding one that matches your taste and makes your trip a memorable experience.
Factors to consider
Selecting the right Champagne tour from Paris requires careful scrutiny of several variables. Your personal preferences steer the decision-making process. Would a group setting enhance your experience, or do you yearn for the exclusivity of a private Champagne tour? Are you excited about visiting large champagne producers like Moët & Chandon, or does exploring small champagne producers appeal more to your discerning palate? The duration of these tours varies too; an understanding of your schedule would help in choosing between half-day tours and full-day excursions.
While most day trips include transportation from central Paris, some options might require additional arrangements. Also consider if you would relish extras such as a French lunch included with tastings during your visit to the prestigious Champagne houses.
Such factors ensure that you get a taste of luxury and truly enjoy every second spent in this beautiful region famous for its exceptional champagnes around 2024.
Types of tours available
For the discerning traveller seeking a memorable experience in Paris, the Champagne province offers an array of luxury tours. Each tour type caters to different preferences, ensuring an unforgettable experience tailored to your style.
| Tour Type | Description |
| --- | --- |
| Small Group Tours | Designed for those who appreciate the camaraderie of fellow wine enthusiasts. These tours typically accommodate 6 to 8 guests, promising an intimate experience filled with memorable tastings. |
| Private Tours | Perfect for those seeking a more personalised experience with family or friends. These tours offer privacy and customization, allowing for a unique, immersive exploration of the Champagne wine region. |
| Luxury Tours | Appealing to the affluent traveller who appreciates the finer things in life. These tours offer exclusive tastings, gourmet meals, and visits to renowned Champagne houses, all while ensuring top-notch service and comfort. |
Each of these tours provides a unique perspective on the art of champagne making, the rich history of the region, and the opportunity to taste some of the world's finest champagnes. Regardless of the choice, a tour to the Champagne region is bound to be a memorable part of your Parisian adventure.
What to Expect on a Day Trip to Champagne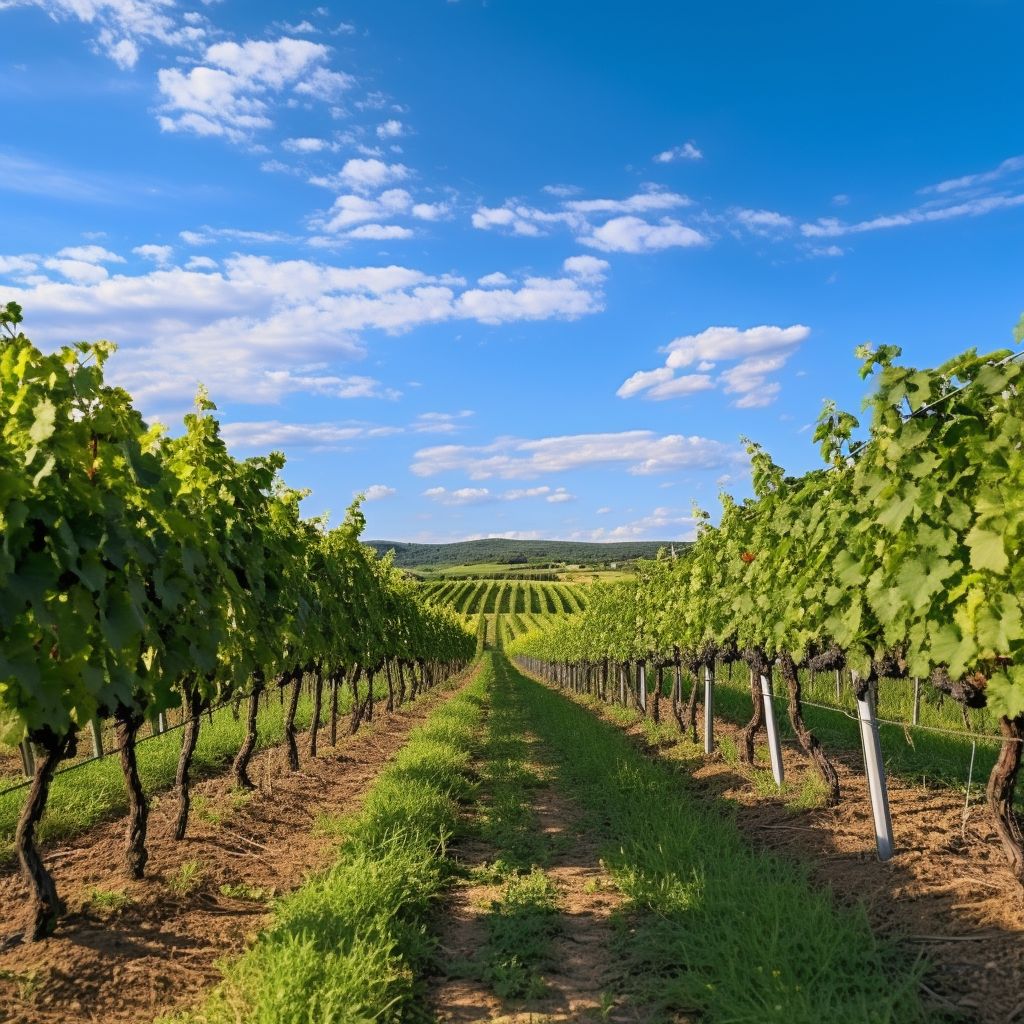 Prepare for an unforgettable journey, starting with a comfortable ride from the heart of Paris into the scenic Champagne County. A visit to renowned Champagne wineries awaits you for an in-depth look at their cellars.
Delight your senses with tastings of varied champagne selections right from their source. Enjoy vineyard tours where sparkling wines originate and learn about the intricate process behind every bottle.
You can expect delightful lunch options while basking in beautiful vineyard views, making this tour not just about champagne but also a culinary adventure.
Transportation
Travelling from Paris to the Champagne Zone is a breeze and part of the exciting tour experience! Many champagne tours offer luxury private car services, which makes for a comfortable journey.
The distance between bustling city life in Paris and serene vineyards in Champagne is about an hour's train ride away. Alternatively, one can also opt for self-organized transportation to save on costs, if desired.
You will appreciate being whisked around by professional drivers familiar with all corners of this sparkling wine country while savouring your champagne tastings back in Paris after an adventurous day trip.
Cellar visits and tastings
Experiencing a Champagne tour from Paris catapults you straight into the heart of the mesmerising wine universe. It's an exciting journey that includes cellar visits and tastings as key components of the day.
During cellar visits, tourists get to delve deep into the world of champagne production. They explore the mysterious processes that transform simple grapes into luscious sparkling wines.
The prestigious Champagne winemaker cellars are spacious and boast impressively long galleries, home to thousands of bottles maturing to perfection. The top places in these cellars include Moët & Chandon and Veuve Clicquot.
A visit to Dom Pérignon, a legendary name in the Champagne region, reveals fascinating history and the methods behind their iconic produce.
Cellar tours typically include demonstrations on how champagne is made, making it a wonderful day of learning for those interested in winemaking.
Tastings form an integral part of these tours, with expert guides explaining how to appreciate various aspects like taste, aroma, colour, and effervescence of different champagnes.
Exclusive tastings at large champagne cellars offer varieties from their extensive collections, while private group tastings at smaller champagne producers provide a more personalised experience.
For those who yearn for more than just sipping champagne, specialised tasting sessions led by expert sommeliers can be arranged where one learns to pair champagne with food.
Vineyard tours
Luxury vineyard tours await those tourists seeking an in-depth champagne experience.
Embark on a journey to Reims, France, a city known for its enriching vineyard tours.
Witness the spectacular sightseeing and taste divine champagne at the renowned Côte des Blancs.
Indulge in public tours of famous Champagne houses such as Moët and Veuve Clicquot without having to fret about prices.
Join a small-group day trip from Paris to explore the vast expanse of the Champagne Territory in luxury.
Roam around the charming town of Reims, with its sprawling vineyards and alluring cellars.
Savour multiple tastings as you learn about the craft behind each bubbly glass of champagne.
Enjoy luxury private transportation, making your wine-tasting experience comfortable and stress-free.
Capture stunning photos of lush grapevines against a backdrop of captivating French countryside.
Lunch options
Savor the flavors of the region with a diverse range of lunch options during your champagne tour from Paris.
Enjoy a delightful French 3-course lunch at a local restaurant that's included in your champagne experience from Paris.
Relish a hearty breakfast and local lunch, available as part of your guided tour package.
Delight in the distinct taste of Champagne-region foods, complemented by sparkling wine.
For an exclusive treat, consider adding a gourmet lunch at a prestigious champagne house.
Look for tours offering an open-air picnic-style lunch amidst the beautiful champagne vineyards for an unforgettable experience.
Take advantage of private group tours offering personalised menu options based on dietary preferences.
Don't miss out on tasting sessions where food is paired with different champagne varieties to enhance your gastronomic journey.
Check if your luxury champagne tour includes an exquisite dinner back in central Paris at the end of the day.
Opt for Champagne tasting experiences that combine tastings with a lavish French lunch showcasing regional delicacies and fresh produce.
For those seeking unique experiences, check out tours that offer cooking classes followed by meals created with locally sourced ingredients.
Best Champagne Tours from Paris: The List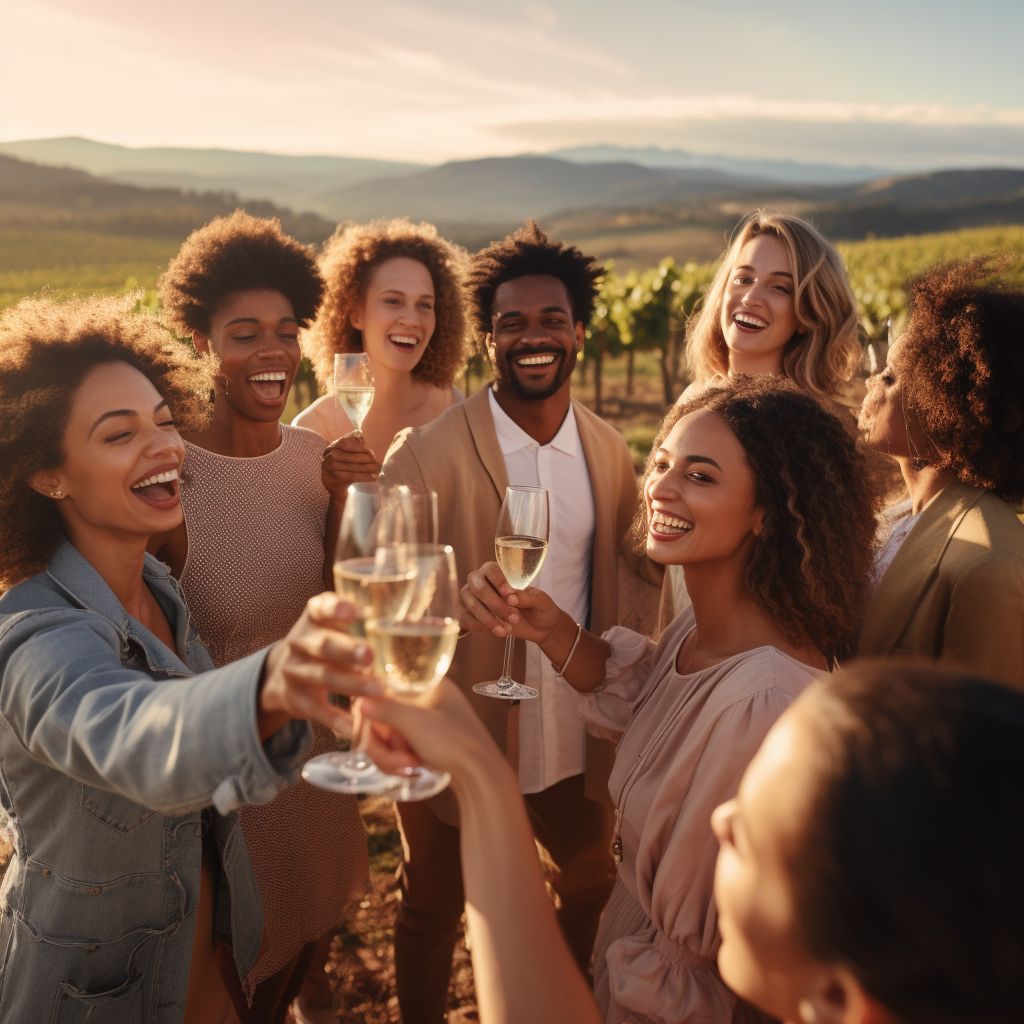 Exploring the best tours from Paris, we've handpicked top-notch Champagne experiences like the luscious "Champagne Day Trip with 8 Tastings & Lunch," the exclusive "Private Champagne Tour with 8 Tastings & Lunch," and even a luxurious expedition to prestigious brands in the "Moët & Chandon Champagne Tour." Others include an all-inclusive journey in our "Champagne Tour from Paris with 6 Tastings," perfect for those seeking variety and depth.
Consider these options when planning your unique French bubbly adventure.
Champagne Day Trip with 8 Tastings and Lunch
The Champagne Day Trip with 8 Tastings and Lunch sets itself apart as a top-tier experience for wine lovers. With this tour, you'll embark on an all-day journey through the stunning landscapes of France's beloved Champagne-growing region.
The package includes tastings at eight different champagne brands and vineyards, giving participants a deep dive into the diverse tastes and styles of champagne production.
One can expect more than just tastebud tantalization from this excursion. It is crafted to provide captivating insights into the history and process of making champagne at a world-renowned house amidst comfortable transportation in small groups limited to eight people.
All these elements combined ensure ample personal space for each individual while contributing to a relaxed atmosphere conducive to appreciating the delicate art of winemaking.
Regarded highly among the luxury tours offered in Paris, participants get treated like VIPs throughout their day trip, which spans about 10–11 hours. One other key highlight that makes it a must-try comes in the form of an authentic French lunch included within its itinerary, enabling those partaking in it to indulge their culinary senses fully amidst their bubbly adventure.
My Winedays has successfully brought together critical elements such as convenience, variety, authenticity, inclusivity, and exclusivity into one impressive package termed "Champagne Day Trip with 8 Tastings and Lunch."
This tour is perfect for wealthy tourists who seek not only enjoyment but also knowledge about everything they are investing time and money in.
Private Champagne Tour with 8 Tastings and Lunch
The Private Champagne Tour with 8 Tastings and Lunch offers an unmatched experience for the discerning traveller. This luxury excursion is not only about savouring outstanding sparkling wine but also promises a delightful cultural immersion in the heart of France's renowned champagne region.
Customers enjoy a personalised tour whisked away from their hotels in central Paris to discover historic champagne houses nestled among picturesque vineyards. Here, you can relish eight diverse tastings of premium champagne, each glass telling its own unique story that echoes centuries-old tradition and meticulous craftsmanship.
Between these indulgent tastings, satisfy your palate further with a gourmet three-course lunch prepared by top local chefs, showcasing seasonal French cuisine at its finest. To round off the day for our esteemed guests, My Winedays ensures a seamless and comfortable drive back into Paris after an unforgettable day spent amidst the tranquil beauty of the Champagne countryside.
Prestige Champagne Tour and Tasting
The Prestige Champagne Tour and Tasting offers a luxury full-day experience for tourists. This tour is esteemed as one of the top Champagne vineyard tours from Paris, offering a journey to the renowned Champagne province.
You'll have the opportunity to tailor-make your tour with itineraries at prestigious brands or several Grand Cru vineyards, depending on your preference. Discovering how champagne is made, tasting different varieties directly from their producers, and exploring beautifully groomed vineyards are highlights of this indulgent experience.
Champagne Tour from Paris with 6 Tastings
Travelling through the Champagne territory, you'll find yourself immersed in scenic vineyards and charming French villages. The Champagne Tour from Paris provides an unprecedented opportunity to savor six different champagne tastings, each offering a unique flavor profile that reflects the terroir of this world-renowned region.
You'll visit historic cellars where artisans dedicate their lives to crafting these coveted blends. From witnessing the harvesting process to understanding finer nuances of champagne production, it's a journey fit for all connoisseurs.
Additionally, gourmet dining experiences are often part of the package, allowing you to pair exquisite champagnes with delectable regional delicacies during your tour day!
Moët & Chandon Champagne Tour
For an unforgettable experience, the Moët & Chandon Champagne Tour shines among other luxury tours available from Paris. This immersive journey transports guests to the heart of the world-renowned champagne house of Moët & Chandon.
Participants can explore its majestic vineyards and historic cellars and gain unique insights into over two centuries of crafting top-notch bubbly.
The tour provides an unmatched tasting opportunity that spans multiple irresistible vintages. Incredible knowledge is shared about this iconic symbol of French elegance and sophistication throughout the tour, making it a compelling choice for sophisticated tourists seeking to deeply understand and appreciate fine champagne.
This high-profile tour is a must-visit for those craving an exquisite blend of history, culture, and tantalising taste sensations offered by one-of-a-kind exceptional vintages.
Insider Tips for a Perfect Champagne Tour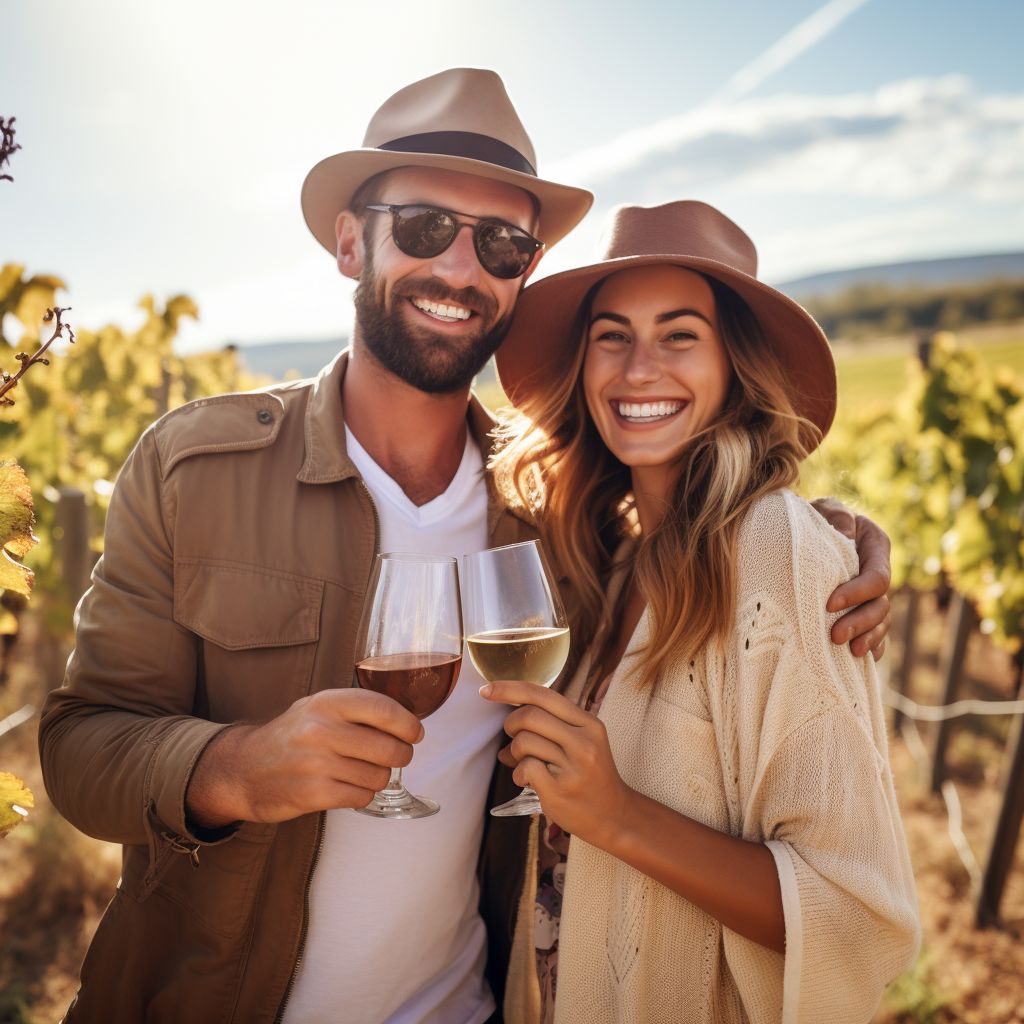 To ensure a perfect Champagne tour, it's recommended to visit during the harvest season for an optimal experience. It also helps to dress comfortably yet stylishly, as you'll be moving in between wine cellars and vineyards.
While there, considering pairing your trip with visits to nearby regions like Normandy or Loire Valley can add richness to your tour experience.
The best time to visit
Are you aiming for an unforgettable champagne tour experience? Timing is key. Visiting the Champagne region between May and October offers a delightful blend of pleasant weather and stunning landscapes.
It's during these months that you can experience the vineyards in full splendour, luxuriate under the warm sun, and savour world-renowned champagnes at their finest. If avoiding crowds while still enjoying prime conditions is your preference, April and May are fantastic choices.
The harvest season, starting late September, also presents a unique opportunity to watch champagne producers come to life with activity, adding another layer of excitement to your luxurious private car tour from Paris.
Fall visits won't disappoint either; imagine the backdrop of vibrant autumnal hues accentuating the beauty of vine-clad hills as you sip on prestigious bubblies!
What to wear
Selecting the right attire for your champagne tour is crucial. Comfort should be a top priority, given that these tours usually involve walking through vineyards and spending some time outdoors.
Lightweight fabrics are highly advisable during the summer, while warmer clothes would be needed in cooler seasons. Don't forget to put on comfortable footwear, as you will be on your feet for an extended period of time.
Moreover, it's common practise to dress smartly—think business casual—when visiting prestigious champagne houses. In essence, strike a balance between comfort and elegance when dressing up for this lavish experience!
Additional experiences (Normandy, Loire Valley, etc.)
Beyond the Champagne House visits, various enticing options exist for visitors to expand their experiences. Each exciting destination offers unique sights and cultural explorations that will surely enhance your trip.
Normandy Region: Known for its stunning landscapes, quaint coastal towns, and historical landmarks such as Mont Saint Michel, a Normandy tour allows you to immerse yourself in history, from mediaeval times to World War II.
Loire Valley: This destination is home to some of the most beautiful chateaux in France. Explore famous sites like Chambord, Chenonceau, and Clos Luce on a guided tour. This experience often includes wine tastings at local vineyards.
Giverny: Art lovers would find great delight in this village, where Claude Monet lived and painted his iconic Water Lilies series. The Giverny tour wouldn't be complete without walking through the beautiful gardens that inspired his works.
Versailles: Marvel at the grandeur of Louis XIV's palace, where you can wander through ornately designed rooms full of art and history, not forgetting the expansive gardens with fountains and sculptures. The Versailles tour from Paris is one of the most recommended visits
Specialty Tours: France Off the Beaten Path Tours offer 11-day specialty tours that include visits to various regions such as Giverny, Normandy, the Loire Valley, Versailles, and Champagne.
Paris & Champagne Private Tour: If you prefer a more personalised experience, consider opting for a private tour focusing on exploring Paris together with the Champagne region.
Frequently Asked Questions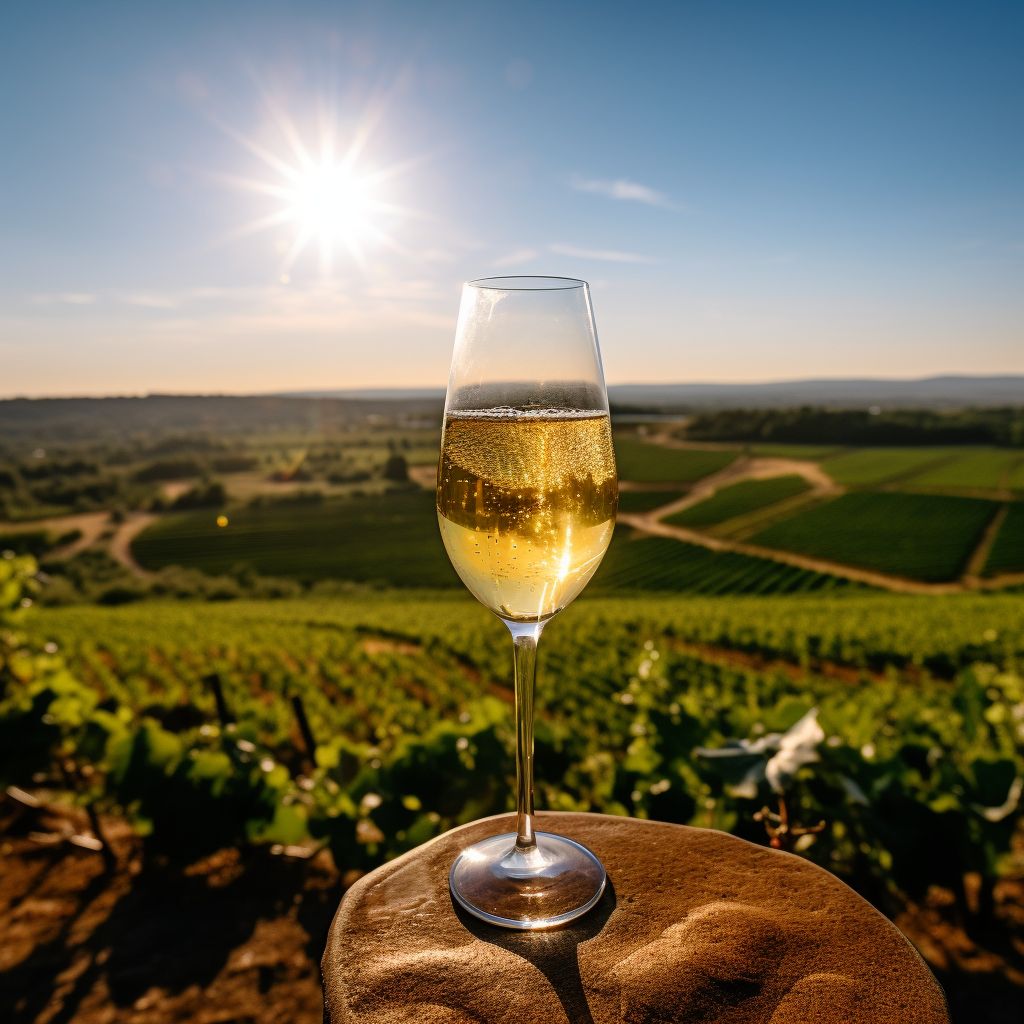 This section addresses the most common queries from potential tour-goers. Starting with the best season for a Champagne Tour, it also covers topics like dress code, options for independent visits, and accessibility provisions available.
The section wraps up by offering suggestions on where to stay in Paris for optimal proximity to champagne tours.
The best season for a Champagne tour
The ideal time to embark on a luxury champagne tour from Paris is usually between April and October. Not only does this period provide pleasant weather, but it also allows visitors to avoid the large tourist crowds often found during peak summer months.
Harvesting in the Champagne region begins in late September, adding an extra layer of interest for wine connoisseurs interested in the process behind their favourite bubbly beverage.
Regardless of the season, one can anticipate tastings and tours offered by various Champagne houses throughout the year.
Dress code
Stepping into the elegant world of the Champagne region, your attire plays a pivotal role. Each Champagne house has its own unique dress code, especially for wine tastings. Strolling down the vineyards or savouring the bubbly delight in Epernay, France, may require a less chic but neat ensemble.
Be it Paris or its outlying regions, dressing well always adds to the charm of French exploration. Ditch those yoga pants and sweatshirts back at home and step out in style with comfortable yet classy attire.
Following these guidelines while visiting Champagne France not only boosts your confidence but also enhances your tasting experience amidst those luscious grapevines and grand wineries.
Independent visits
Independent visits offer a unique opportunity for tourists who prefer a more flexible and personalised experience. Opting for this kind of visit allows you to explore the Champagne region at your own pace, without the constraints of a set itinerary.
You have the freedom to spend as much time as you desire in each champagne house, enjoying the wine flavours unhurriedly.
In order to get the most out of these independent trips, advance planning is crucial. Make reservations ahead of time with your preferred champagne houses or vineyards; many places require appointments for wine savouring and seeing their facilities.
Additionally, study maps and transport schedules so you can move around smoothly in the area. Enjoying an independent tour also means being responsible for organising your own transportation from Paris to Champagne; consider hiring a private car service if comfort is essential during your travel.
Accessibility options
Champagne tours from Paris are designed to create an unforgettable experience for everyone, considering the needs of diverse attendees. Tours make efforts to ensure a seamless travel experience for individuals with mobility difficulties or dietary restrictions.
Some even offer options like sign language interpreters and braille maps for visually or hearing impaired guests. Whether you're traversing cellars, vineyards, or tasting rooms, these provisions promote inclusivity without compromising the adventure.
Many tour providers also cater to non-drinkers and children by offering insightful historical features and non-alcoholic tastings.
Where to stay in Paris
Luxury and comfort define the hotel options in Paris, making it an ideal base for your Champagne tour. Neighbourhoods like Saint-Germain-des-Prés or Le Marais offer a mix of elegance and history, featuring high-end establishments such as L'Hotel or Hotel de Crillon.
For those seeking stunning Eiffel Tower views, hotels around Trocadero are unbeatable choices. The surrounding area is filled with quiet yet upscale residential streets, providing easy access to both central attractions and peaceful retreats away from bustling city life.
If exclusivity is your primary concern, consider staying at one of the palace-rated hotels, such as the Four Seasons George V or the Mandarin Oriental Paris, located in posh areas like Avenue Montaigne or Rue Saint-Honoré.
With their luxurious amenities and top-tier services, these accommodations ensure a splendid stay while you explore the myriad delights of the City of Light, including its enticing Champagne tours!
Conclusion
Venture beyond the city lights of Paris and immerse yourself in the lush vineyards of Champagne. Luxury meets tradition on these handpicked tours, where you'll taste world-class bubbly and learn about its renowned production process.
Don't hesitate; let your champagne dreams lead your way to a day trip full of effervescence and splendour!
FAQs
1. What can I expect on a champagne day tour from Paris?
A champagne day tour from Paris usually includes visiting the Champagne region of France, tasting different varieties of champagne, learning about the history and process of making champagne, and possibly bringing bottles of champagne back to Paris.
2. How do I choose the best Paris Champagne Tour?
When choosing a Champagne day trip from Paris, consider aspects like tour guide expertise, whether they visit one or two world-famous champagne houses like Dom Perignon or smaller ones off Avenue de Champagne.
3. Is it possible to do a private champagne tour from Paris?
Yes! For an exclusive experience, tourists can take a private champagne trip outside of Paris; these often include more personalised tours and tastings at both large and small champagne houses.
4. Would I have time for other activities in my itinerary if I went on a day trip to the Champagne region?
Absolutely! With efficient planning, you could experience both your tours in 2024 within your visiting Paris schedule—spend a great day in the capital of champagne country, then be back by evening to continue enjoying your stay at your hotel in central Paris.
5. Can we bring home some bottles after our visit to the Champagne house?
Of course! Part of many tours includes purchasing some delightful bottles for yourself or as gifts; hence, don't forget some space while packing for this memorable part of your exciting paris trip
6. What food will be served during this trip?
The food options vary; however, most companies may serve local French cuisine paired with appropriate wines, enhancing overall experiences with moderate nuances between classical dishes and better understanding wine fullness when complemented with meals.
7. What are the best champagne private car tours from Paris?
The best champagne tours from Paris offer an unforgettable experience for wine enthusiasts. One highly recommended tour is the Champagne day trip from Paris. This tour takes you to the beautiful Champagne region, where you can visit world-famous champagne houses, learn about the history and production process of champagne, and, of course, indulge in champagne tasting.
8. How can I plan a champagne private tour from Paris in 2024?
If you are planning to take a champagne tour from Paris in 2024, it's best to book in advance to secure your spot. Many tour operators offer online booking options. Look for tours that specifically mention "2024" to ensure you are booking for the correct year.
9. Can you recommend a champagne day trip from Paris?
I highly recommend the Champagne day trip from Paris offered by Private Car Service Paris. This tour typically includes transportation from Paris to the Champagne region, visits to renowned champagne houses, guided tours of vineyards, cellar tours, and, of course, tastings of various champagnes. It's a fantastic opportunity to learn about the history and production of champagne while enjoying breathtaking scenery.
10. What are some of the top champagne private tours from Paris?
Some of the top champagne tours from Paris include visits to prestigious champagne houses such as Moët & Chandon, Veuve Clicquot, and Taittinger. These tours often provide exclusive access to the cellars and vineyards, giving you a unique insight into the world of champagne production. Additionally, they offer opportunities for champagne tasting, allowing you to savor the finest champagnes produced in the region.
11. How can I plan a day trip from Paris to the Champagne region?
To plan a day trip from Paris to the Champagne region, it's recommended to book a guided tour. The tour operator will handle transportation from Paris to the region, usually by comfortable coach or minivan. They will also arrange visits to champagne houses, provide guided tours, and coordinate champagne tastings. This takes the hassle out of planning and allows you to fully enjoy the experience.
12. What can I expect during a champagne tasting?
You can expect to sample different varieties of champagne produced by the champagne house you are visiting during a champagne tasting. Champagne experts will guide you through the tasting, explaining the characteristics, flavours, and aromas of each champagne. They may provide insights into the production process and offer tips on how to fully appreciate the champagne's qualities. It's a wonderful opportunity to indulge your senses and discover your favourite champagne.