Unlocking the Wonders of Paris With Private Car Tours
Welcome to the City of Lights, where history, culture, and romance intertwine in picturesque streets and world-renowned attractions. Discovering Paris has never been more captivating than with private car tours designed to unveil its hidden gems while cruising through the city in style.
From traveling back in time in a vintage Citroen 2CV to savoring UNESCO-listed landmarks from the comfort of luxury vehicles, we have handcrafted an unforgettable journey that artfully merges personalized experiences with genuine local expertise.
Paris City Tours: Private Car Excursions And Cultural Expeditions
Expert drivers take you on a fascinating journey through the history of Paris, stopping at iconic landmarks like the Eiffel Tower and Notre-Dame Cathedral.
Expert Drivers: A Fascinating Journey Through History
One of the key elements that make private car tours in Paris truly exceptional is the expertise of the drivers who double as knowledgeable guides.
These skilled professionals know every nook and cranny of this remarkable city, taking you on a journey through history as you explore iconic landmarks and hidden gems alike.
Imagine cruising down Champs-Élysées in a classic Citroën – a vintage French automobile – with your personable driver regaling tales from centuries gone by as you marvel at the impressive Arc de Triomphe ahead.
Iconic Landmarks: Capturing The Essence Of Paris
A private car tour of Paris provides the perfect opportunity to explore and appreciate the city's most iconic landmarks. The Eiffel Tower, Louvre Museum, Notre-Dame Cathedral, and Champs-Élysées are just a few of the many attractions that will captivate tourists during their journey through the City of Light.
For instance, as you drive along the Seine River admiring picturesque views from your classic car or luxury vehicle, listen intently as your knowledgeable local guide shares fascinating anecdotes about these architectural wonders.
Witness firsthand how Notre-Dame has withstood centuries of turmoil yet still maintains its magnificent appeal – a testament to Parisian resilience and charm.
Enchanting Paris Tours: Magic With Private Cars
Explore the romance and magic of Paris at night with private car tours that take you to iconic landmarks like the Eiffel Tower and Moulin Rouge.
Eiffel Tower And Moulin Rouge: A Night To Remember
Experience the magic of Paris at night with a private car tour that takes you to two of its most iconic landmarks, the Eiffel Tower and Moulin Rouge.
Marvel at the tower's sparkling lights as it illuminates the city from above, offering stunning panoramic views of Paris' glittering skyline.
With a knowledgeable local guide to lead your journey, you'll gain insight into the history and culture behind these famous sites while traveling in comfort and style.
Whether it's a romantic evening for two or a fun-filled night out with friends or family, a private car tour is sure to leave you with memories that will last long after your trip has ended.
Louvre Museum: Art And History Collide
Embark on a journey like no other with your private car tour to the Louvre Museum. As you enter the world's largest art museum, prepare to witness the stunning collision of art and history that has made it an iconic Parisian destination.
The personalized experience offered by a private car tour ensures that you get more than just an overview of this massive institution. With exclusive skip-the-line entry access, revel in the opportunity to explore lesser-known sections while still marveling at beloved classics; imagine uncovering remains from the medieval castle that once stood where today lies the renowned glass pyramid entrance.
As part of your unforgettable visit to Louvre Museum during your private panoramic tour, take note of key architectural elements around every corner – truly paying tribute to how art and history intermingle seamlessly within its halls – creating a once-in-a-lifetime excursion into one of Europe's most significant museums on Earth.
The Louvre Museum is a must-visit destination in Paris for art lovers, history buffs, and culture enthusiasts alike. With private tours available, visitors can experience the museum in a uniquely personal way.
Private guided tours offer an insider's perspective on some of the most famous works of art in the world.
Private tours of the Louvre also allow visitors to avoid long lines and crowded galleries, ensuring a more relaxed and personalized experience. For those looking to delve deeper into specific areas of interest within the museum, customized tours are available that cater to individual preferences.
Overall, visiting the Louvre Museum through a private tour offers a unique opportunity to discover some of humanity's greatest artistic achievements while gaining insight into their cultural significance throughout history.
Vintage Car Tours: A Retro Ride Through The City
For a unique and memorable experience, consider taking a Vintage Car Tour through the streets of Paris. These tours offer visitors the chance to explore the city in classic cars from decades past, adding a charming retro feel to their travel experience.
With vintage vehicles like Citroen 2CVs or Renault 4Ls, guests can enjoy panoramic views of all of Paris' iconic landmarks while feeling as though they've stepped back in time.
One popular two-hour tour takes visitors on an overview around Paris' famous sights such as the Champs-Elysees, Arc de Triomphe and Notre-Dame Cathedral. Alternatively, tailored sightseeing tours are also available for those looking for something more bespoke and personalized.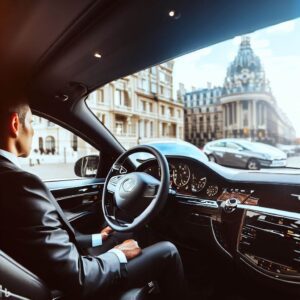 Unique Private Tours: A Curated Experience Tailored To You
Private car tours in Paris offer unique and tailored experiences that cater specifically to the interests and preferences of travelers. From vintage car tours to personalized walking tours, private tour companies like Cedric's Paris Private Tours provide customized itineraries that allow tourists to explore Paris at their own pace.
With a knowledgeable local guide, private car tours in Paris can be curated precisely according to your needs and wants. Whether it's tasting authentic French cuisine, exploring hidden gems around the city, or visiting popular landmarks without having to wait in long queues – the possibilities are endless! With these personal touchpoints, travelers can experience an unforgettable journey discovering all that Paris has to offer.
Benefits Of Private Car Tours In Paris
Experience a personalized and tailored adventure through Paris with the efficiency of time, comfort, safety assurance, flexible itineraries, and knowledgeable local guides on private car tours – read more to discover why this is the best way to explore Paris.
Personalized And Tailored Experience
One of the biggest advantages of private car tours in Paris is the opportunity to enjoy a personalized and tailored experience. Unlike regular group tours, which follow preset itineraries, private tours allow you to customize your trip according to your interests and preferences.
Private car tours also offer flexibility regarding the pace and schedule of your tour. You can take breaks whenever you need them, explore at leisure without feeling rushed by groups of other tourists, and stop for photos or shopping at any time during the tour.
Efficient Use Of Time
Private car tours in Paris offer visitors the advantage of efficient use of time. With a private driver guide, travelers can easily navigate through the city's busy streets and reach their destinations without delays or the inconvenience of public transportation.
Moreover, private car tours allow tourists to customize their itinerary according to their preferences and interests, enabling them to see only what they want to see in a limited amount of time.
A knowledgeable local guide can help create an itinerary that maximizes visitor experience while avoiding long queues and crowds at popular attractions.
Flexible And Customizable Itineraries
Private car tours in Paris offer a level of flexibility and personalization that is unmatched by traditional group tours. With a private tour, travelers can customize their itinerary to suit their interests and preferences.
Whether you want to visit the iconic landmarks of Paris or explore its hidden gems, private car tours allow you to design your own route.
For example, if you are an art lover who wants to see only the famous pieces at the Louvre Museum instead of spending hours exploring every gallery, your private driver-guide will ensure that your museum time is tailored specifically for this purpose.
Comfort And Safety Assured
Private car tours in Paris offer peace of mind for tourists, as they ensure both comfort and safety during their journey. With a private driver guide, tourists can relax in the spacious back seat of a luxury vehicle while taking in the stunning sights and sounds of Paris.
In addition to providing a comfortable ride, private car tours prioritize safety for all passengers. Tour companies take extra measures to ensure that drivers are experienced and knowledgeable about local traffic laws and customs.
Furthermore, these tours have implemented additional health protocols amid the COVID-19 pandemic, including sanitizing vehicles regularly and requiring face masks for all participants.
Knowledgeable And Friendly Local Guides
Private car tours in Paris come with the added advantage of knowledgeable and friendly local guides. These English-speaking licensed tour guides not only provide tourists with insight into the city's rich history and culture but also give recommendations on where to go, what to eat, and how best to experience the city like a local.
Moreover, hiring a private driver in Paris guarantees tourists get their bearings and good advice from a local chauffeur who is tourist-friendly. They understand that visitors may be unfamiliar with navigating through busy city streets or using public transport systems, so they're always happy to help ensure your travel needs are met.
Choosing The Best Paris City Tours
To ensure the ultimate Paris experience, choosing the best private car tour is crucial; from researching tour companies and checking reviews to considering budgets and itineraries – make an informed choice.
Researching Tour Companies
When choosing a tour company for your Paris city tour, it's important to do your research to ensure you have the best possible experience. Here are some factors to consider:
Check the tour company's reputation on travel review websites like TripAdvisor or Yelp.
Look for tour companies that provide personalized tours tailored to your interests and needs.
Consider the type of tour vehicle the company uses, such as classic cars or luxury vehicles.
Find out if the company provides knowledgeable and friendly local guides who can offer insight into Parisian culture and history.
Compare prices and offerings from different tour companies to find one that fits within your budget.
By doing thorough research before booking a private car tour in Paris, you can ensure that you choose a reliable and reputable company that offers an unforgettable experience.
Checking Reviews And Testimonials
As a tourist planning a trip to Paris, it's essential to do research and read reviews of different tour companies before making a decision. Checking the reviews and testimonials from previous customers can give you an idea of the quality of service offered by these companies and if they meet your expectations.
Reviews also help in identifying whether or not the company delivers on its promises and if their tours are worth the investment. It is worthwhile looking for specific details about other people's experiences with guides, drivers, transport options, duration, routes as well as overall customer support during their tours.
Considering Tour Length And Inclusions
When planning a Paris tour, it is important to consider the length of the tour and what activities or attractions are included. Some tours may only last a few hours, while others can take an entire day or more.
Inclusions are also important to consider when booking a private car tour in Paris. Some tours offer access to popular museums like the Louvre or Musée d'Orsay, while others focus on exploring neighborhoods like Montmartre or Le Marais.
Visitors should also think about any optional extras offered by the tour company such as shopping excursions on Champs-Elysées or an unforgettable Seine river cruise.
Group Sizes And Budgets
Private car tours in Paris offer the luxury of traveling with a small group, typically limited to four guests. This intimate setting ensures that tourists receive personalized attention from their driver-guide and can tailor the itinerary based on their interests.
When deciding on a Paris city tour, it is important to consider your budget and group size. Some companies offer discounts for larger groups or families, while others have fixed pricing regardless of party size.
It is essential to inquire about rates and services included in the package before making any payment commitments.
Perfect Timing And Logistics
Choosing the best time and planning your itinerary is crucial for an enjoyable private car tour experience in Paris. The earlier you book, the better chance you have of ensuring availability during peak travel periods.
Additionally, consider what works best for you; whether it's a morning or afternoon excursion or covering all landmarks in one day.
When deciding which landmarks to see, think about which areas could get congested during peak times and plan accordingly with your driver-guide. For example, visiting Notre Dame Cathedral on a Sunday morning may prove difficult due to church services that are held at this time.
With our expert drivers who know the city well coupled with customized itineraries designed by experienced tour companies like Private Tours of Paris, Ahoy New York Food Tours & Tasting Events , Montmartre Like A Local: Paris Food Tour, Car Tour Paris among others ensures efficiency and personalization so that visitors can experience the magic of Paris within their own timelines and budgets without compromising on comfort and safety assuredness.
Paris Half-Day City Tours With A Private Driver
Experience the essence of Paris in just a few hours with our private half-day city tour, offering options such as classic vintage tours or exploring the city at night. Discover all that Paris has to offer with the expert guidance and comfort of a private driver, customized to your preferences for an unforgettable journey.
Classic Vintage Tour
One of the most exciting and popular tours offered by Private Car Tours is the Classic Vintage Tour. This half-day driving tour takes you through some of Paris's most historic neighborhoods in a vintage car with an expert driver-guide at your service.
As you travel through the city, you can marvel at iconic landmarks like Notre-Dame Cathedral, the Eiffel Tower, and even drive along the famous Champs-Élysées boulevard.
This tour also covers lesser-known areas such as Place des Vosges, where Victor Hugo once lived, and Montmartre district, where artists like Picasso and Van Gogh used to work.
Paris By Night
Experience the magic of Paris by night with a private car tour that will leave you breathless. From the glittering lights of the Eiffel Tower to the bohemian charm of Montmartre, this tour will take you on an unforgettable journey through one of Europe's most romantic cities.
Cruise along the Seine River and marvel at illuminated landmarks like Notre-Dame Cathedral, Musée d'Orsay, and Place de la Concorde.
For a truly unique experience, indulge in a classic car tour at night! The Vintage 2CV provides an authentic retro ride with its open-top roof and charming design as it takes you around town.
As well as being chauffeured around in style, your driver-guide will provide fascinating insights into Paris's history and culture.
Private Tour Louvre Museum
The Private Tour Louvre Museum is one of the must-see attractions on a Paris Half-Day City Tour with a Private Driver. This private guided tour includes skip-the-line access to the Louvre Museum for an intimate look at some of the world's most famous artworks, including Leonardo da Vinci's Mona Lisa and the ancient Greek sculpture Venus de Milo.
A knowledgeable local guide will lead you through the halls and provide interesting historical insights into each artwork. With your own air-conditioned transport, you won't have to worry about navigating public transportation or walking long distances in between stops.
The 10 Best Paris Private Tours
Discover the top private tours in Paris, including a Seine river boat tour and a guided walking tour of Montmartre.
Seine River Private Boat Tour
A Seine River Private Boat Tour is an excellent way to take in the beauty and history of Paris. This tour offers a luxurious experience for tourists who want to explore top landmarks such as the Eiffel Tower, Field of Mars, Champs-Élysées and the Arc de Triomphe.
Several private boat tour operators are available on the Seine River, with some offering longer cruises between 1-3 hours depending on your preference or budget.
Aboard one of these tours, you can enjoy a glass of wine while observing life along the riverbanks from a different perspective than being on land.
Tuktuk In Paris
A fun and eco-friendly way to explore Paris is by Tuktuk, offered by several private tour companies. These unique vehicles are available for hire 24/7, 365 days a year and can accommodate up to six people per vehicle.
The guided tours take tourists on several routes around the city, showcasing some of its most beautiful landmarks and hidden gems. Exploring Paris by Tuktuk is perfect for families with kids as they offer electric Tuktuks designed specifically for them, making their guided tour even more enjoyable and unforgettable.
Paris And Montmartre By Night Tour
The Paris and Montmartre by Night Tour is an enchanting private car tour that takes visitors on a journey through the beautiful city of Paris. The tour is conducted in a classic 2CV, offering tourists an intimate and unique experience as they explore the stunning architecture and historical landmarks of the city at night.
This private sightseeing tour includes stops at iconic locations such as Moulin Rouge, Place du Tertre, Sacré-Cœur Basilica, and Eiffel Tower with their illuminated views under the stars making it one of the top 10 private tours in Montmartre.
The personalized guided tour allows visitors to see these sites from an entirely different perspective than day time tours would offer.
Custom Private Tour
Another exciting option for exploring Paris is through a custom private tour. These tours are tailored to the specific interests and preferences of visitors, ensuring that they get the most out of their time in Paris.
For example, some customized tours might include a visit to lesser-known museums or neighborhoods that tourists don't typically frequent. The flexibility of these private tours allows for a personalized experience that highlights the unique aspects of Paris that interest each individual traveler.
And with luxury private guided tours available as well, visitors can explore the city in comfort and style with expert drivers and high-end vehicles at their disposal.
Guided Museum Tours
If you're an art lover visiting Paris, exploring the city's museums with a certified guide-lecturer is highly recommended. You'll skip the long lines and gain valuable insights into some of the world's most famous masterpieces.
The Louvre Museum offers private guided tours that provide an unforgettable experience for lovers of art history with expert guides who bring each piece to life through their knowledge and passion.
One company offering these tours is Art Journey, which specializes in private guided tours of Paris' museums and monuments with official guides who are experts on various topics such as Renaissance, Baroque or Contemporary art movements.
Guided Walking Tours
Guided walking tours in Paris offer an immersive way to explore the city, and there are many exciting options available. Food tours allow visitors to sample traditional French cuisine while visiting popular food markets and specialty shops.
Walking tours also offer unique perspectives on specific neighborhoods such as Montmartre or Le Marais, where you can discover hidden gems that might otherwise go unnoticed.
Some guided (Jewish) walking tours even focus on the history of a particular group of people, tracing their story throughout different parts of Paris.
Guided Combo Tours
For tourists who want to make the most out of their Parisian adventure, guided combo tours are an excellent option. These private tours combine various destinations and attractions in one itinerary, making the touring experience efficient and enjoyable.
With a personalized tour guide and professional driver at your service, you can explore Paris with ease and flexibility tailored to your preferences.
Some popular examples of these combo tours include a city-wide excursion that covers iconic landmarks like the Eiffel Tower and Notre-Dame Cathedral or a visit to the Louvre Museum combined with exploring Montmartre's bohemian district.
Conclusion: Embracing The Paris Private Car Tour Experience
In conclusion, exploring Paris with a private car tour is an experience you will never forget. With knowledgeable and friendly local guides, you can unlock the wonders of this beautiful city in a personalized and tailored way.
Whether it's visiting iconic landmarks like the Eiffel Tower or delving into the art and history of the Louvre Museum, there are endless possibilities to discover.
Private car tours offer flexibility, comfort, safety, and efficient use of time, ensuring that your journey through Paris is unforgettable.
FAQs And More: Getting Informed About Tours In Paris
Check with the tour company if there are any dress codes or restrictions for the tours, especially when visiting religious sites.
1. What is included in a private car tour of Paris with a professional guide?
A private car tour of Paris typically includes an experienced guide who will take you to the most iconic landmarks and attractions throughout the city, while also offering insights into its rich history and culture. You'll be able to travel in comfort and style in your own private vehicle, allowing for maximum flexibility and convenience.
2. How long do private car tours of Paris usually last?
Private car tours of Paris can vary in length depending on your preferences, ranging from a few hours to an entire day or more. It's important to discuss your itinerary with your guide ahead of time so that they can provide you with a customized experience tailored specifically to your interests.
3. Are there any hidden gems or off-the-beaten-path locations that are worth exploring during a private car tour of Paris?
Absolutely! There are many lesser-known sights throughout Paris that offer unique experiences beyond the typical tourist destinations. Your guide will work with you to identify these hidden gems based on your interests, ensuring that you get the most out of your trip while discovering new aspects of this beautiful city.
4. Can I customize my own itinerary for a private car tour of Paris?
Yes – one major advantage offered by booking an exclusive guided sightseeing adventure is having full control over where we go & when we stop along our way through France's capital.After discussing options beforehand,you'll then have chance rearrange if proper landmarks were left out originally.Tour guides may even recommend activities not originally considered such as vintage wine tastings at renowned wine cellars found only outside central regions , scenic garden walks alongside Seine riverbanks , classical music performances located within historic venues, among other various uncommon experiences available via VIP services.
Private Car Service Paris
Average rating:
0 reviews