Day Trips to Paris from London: Your Ultimate Guide to Planning a Memorable Parisian Adventure by Eurostar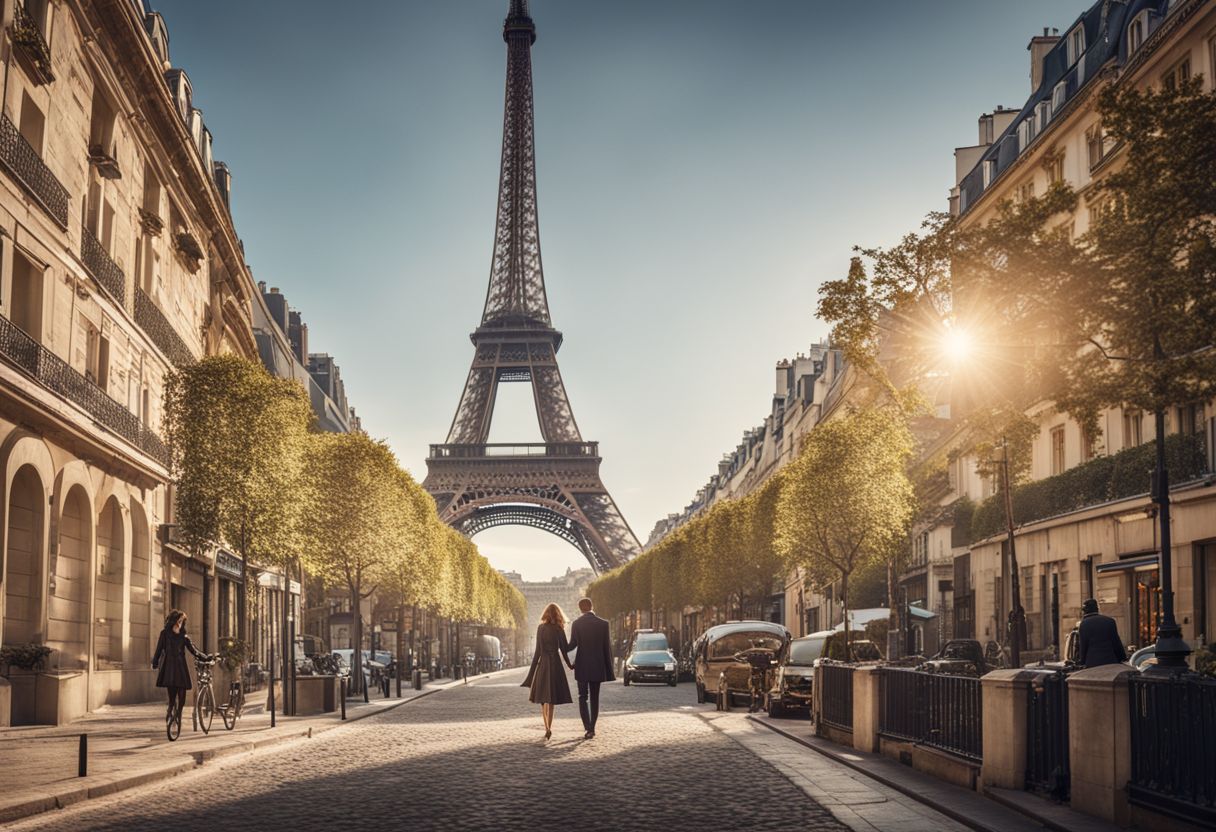 Eiffel Tower in the background." title="A couple walking through the streets of Paris with the Eiffel Tower in the background." class="awimage" />
Looking to escape London's hustle and bustle for a day of luxurious exploration in Paris? Travelling from St. Pancras Station via Eurostar, you're merely hours away from stepping into the heart of France's enchanting capital city. In this guide, we'll unveil how our private car services and bespoke itineraries are crafted to fulfill your every desire for a memorable Parisian adventure. Timeless beauty and charm await – let's whisk you away on your elegant day trip to Paris!
Key Takeaways

You can take day trips from London to Paris by booking a ride with Private Car Service Paris. It's fast and fun.
Planning the trip is easy when you book your Eurostar train tickets early. The journey only takes two hours!
Your tour in Paris will include many iconic spots like the Eiffel Tower. Take time to relax too!
Always dress smart but comfy for your trip, and plan ahead so you have more fun.
There are special touring plans on offer, like luxury tours or private car guided tours which make your adventure even better!
The ease and luxury of taking a day trip from London to Paris with Private Car Service Paris.
You will love a day trip from London to Paris with Private Car Service Paris. We make your ride smooth, fast and full of fun. Our private car service gives you the freedom to enjoy Paris at your own speed.
You won't worry about busy trains or public buses. Our skilled drivers know both cities very well. They drive you from the heart of London straight into the exciting life in Paris.
This way, you have more time for must-see sights like the Eiffel Tower! Plus, our professional team helps you plan a great one-day tour of Paris that fits what you want to do and see best.
Planning a Day Trip to Paris from London
Step one in planning your luxurious day trip to Paris from London is securing a ticket on the Eurostar train. This quick and convenient service will transport you directly into the heart of Paris, allowing for ample time to explore the city's iconic attractions.
With our private car service at your disposal throughout, creating a fulfilling itinerary is worry-free while also affording room for spontaneity during your journey. Planning with us ensures not just an unforgettable expedition but a smooth transition between activities, nourishing meals at top-notch eateries like Breizh Café in Marais and downtime to rest as well — making every moment of your luxury voyage across the Channel truly memorable.
Booking your Eurostar train ticket from London to Paris.
Having a smooth trip from London to Paris is easy with the Eurostar train. Here is how to book your ticket:
Choose the "London to Paris" option on the Eurostar train website.
Pick a day suited for your travel.
Select a preferred departure time. The journey takes just over two hours.
There are options for comfortable seating and amenities, choose based on your needs.
Book weeks ahead for the best prices.
You can cancel or change your ticket for free, but be sure to check terms and conditions.
Setting realistic expectations: What you can truly enjoy in a day when you have luxury transport at your disposal.
You might be wondering what you can do in Paris in one day. Well, there is a lot to enjoy! We believe that having high-end transport makes your trip even better. The Eurostar train gets you from London to Paris fast.
It's just about 2 and a half hours long.
Once in Paris, allow Private Car Service Paris drive you around the city. See all of the iconic French spots like Eiffel Tower or cruise down the River Seine without stress. You also have time for a fancy lunch at Breizh Café or any spot of your choice.
With this luxury ride, getting from place to place becomes easy and fun! So keep it simple – choose only a few things for your one-day itinerary with us and make those moments count.
Importance of downtime: How our service allows for relaxation and spontaneity in your itinerary.
Our service shows you Paris in style. But you also get time to relax. You will not feel rushed or tired during your trip. We plan breaks for rest and lunch at good spots. So, you enjoy more and worry less.
We value free play in trips too! With us, there is space for last-minute plans if you wish. Fancy a stop at a bakery or an unplanned hop into a gift shop? No problem with our flexible approach! This kind of freedom makes your day extra special.
Tailored Itinerary for a Day Trip to Paris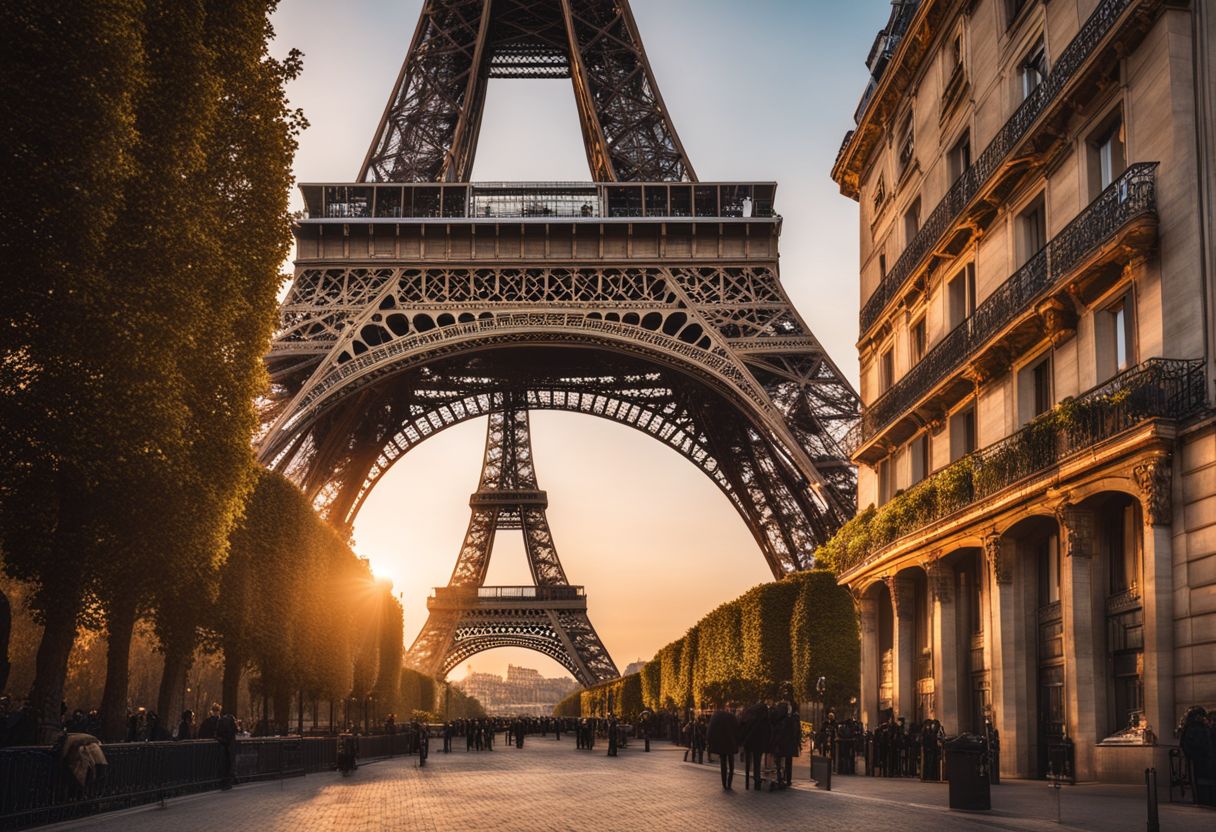 Enjoy a curated day filled with historic, gastronomic, and aesthetic highlights of Paris guided by our expert chauffeurs; from a visit to the iconic Notre-Dame to lunching at a local bistro in Marais, ending your afternoon with world-class art visits before winding down with an unforgettable view from the Eiffel Tower.
Dive deeper into the experience that awaits you now!
Morning: Seamless Meet & Greet at Gare du Nord, followed by a visit to Notre-Dame and its surrounding areas.
Our friendly staff waits for you at Gare du Nord. They make sure your trip starts without any problems. From here, we go to Notre-Dame right away. It is in the center of Paris on a small island called Île de la Cité.
At Notre-Dame, you will see stunning art and history up close. Walk around and enjoy this special place that means so much to Paris.
Lunch: Reservation and transfer to Breizh Café in the Marais or a restaurant of your choice. at Breizh Cafe in the Marais
Your lunch spot is set. You'll go to Breizh Café in the Marais. Our team will book a table and take you there so no need to worry about it. This café makes very good crepes out of great foods like buckwheat and cream, which is why people love it so much! If you want something else, that's okay too! We can also book a place at another restaurant that you pick.
Just let us know!
Afternoon: Personalized museum tour based on your interests.
In the afternoon, enjoy a special museum tour just for you. Let's say you love art. You can visit places such as The Louvre or Musée d'Orsay. More into science? Then the Cité des Sciences et de l'Industrie is your go-to spot.
This Paris day trip fits what you like best! With our service, we plan this unique part of your one-day itinerary to match your likes and wants. No two tours are the same! It makes each Paris adventure so different from another but always fun!
Late Afternoon: A luxurious drive to the Eiffel Tower, with the option for a champagne toast.
In the late afternoon, a swanky ride takes you to the Eiffel Tower. This is a sheer joy for all high-profile visitors in Paris. You get ready for a cozy trip along with our Private Car Service Paris.
As we move through the city center, there's much to see! The tower gets closer and gets bigger every second! There it stands tall – an icon of beauty and charm. And what's more? You can add sparkle to this momentous journey with a champagne toast! High above on top of the Eiffel Tower is great place for sipping champagne by day or night! That's right; there's sparkling bar waiting just for you! In no time, you'll be at ease taking in views from atop this magic of Paris while wanting to stay longer.
All aboard now as your luxurious drive awaits.
Return: Coordinated drop-off at Gare du Nord, ensuring you arrive 75 minutes before your Eurostar departure.
We end your day tour with a smooth ride back to Gare du Nord. Our expert driver will handle getting there on time for you. We aim to get you there 75 minutes before your Eurostar leaves.
This gives plenty of time for luggage checks and passing through border control. Your comfy journey home from Paris starts without stress or rush, just as it should be.
Feel relaxed knowing we take care of the timing in this busy station. You enjoy each moment of your day trip right until the last minute in Paris. Then, rest easy on your train ride back to London after an unforgettable French adventure!
Exclusive Do's and Don'ts for a Luxury Day Trip to Paris from London
Breeze through your luxurious adventure with insightful do's and don'ts tailored for elite travelers embarking on a premium day trip from London to Paris – tips that ensure your journey is not just comfortable, but also impeccably stylish.
Unveil these exclusive insights crafted just for you in the upcoming section!
Tips that apply specifically to travelers opting for a luxury experience.
Luxury travel needs planning and care. Choose early morning or late night trips for less noise. Book first-class Eurostar tickets for more comfort. Use a private car service in Paris for easy rides from place to place.
Save your energy for sightseeing, not line-standing. Get 'skip the line' passes at famous spots like the Eiffel Tower. Dress smart but stay comfortable. Paris weather can change fast so bring a light jacket even on sunny days.
Do be open to changes in plans as unexpected moments often become cherished memories! Stay relaxed and enjoy every moment of your luxury trip to Paris.
What to Wear for Your Luxury Day Trip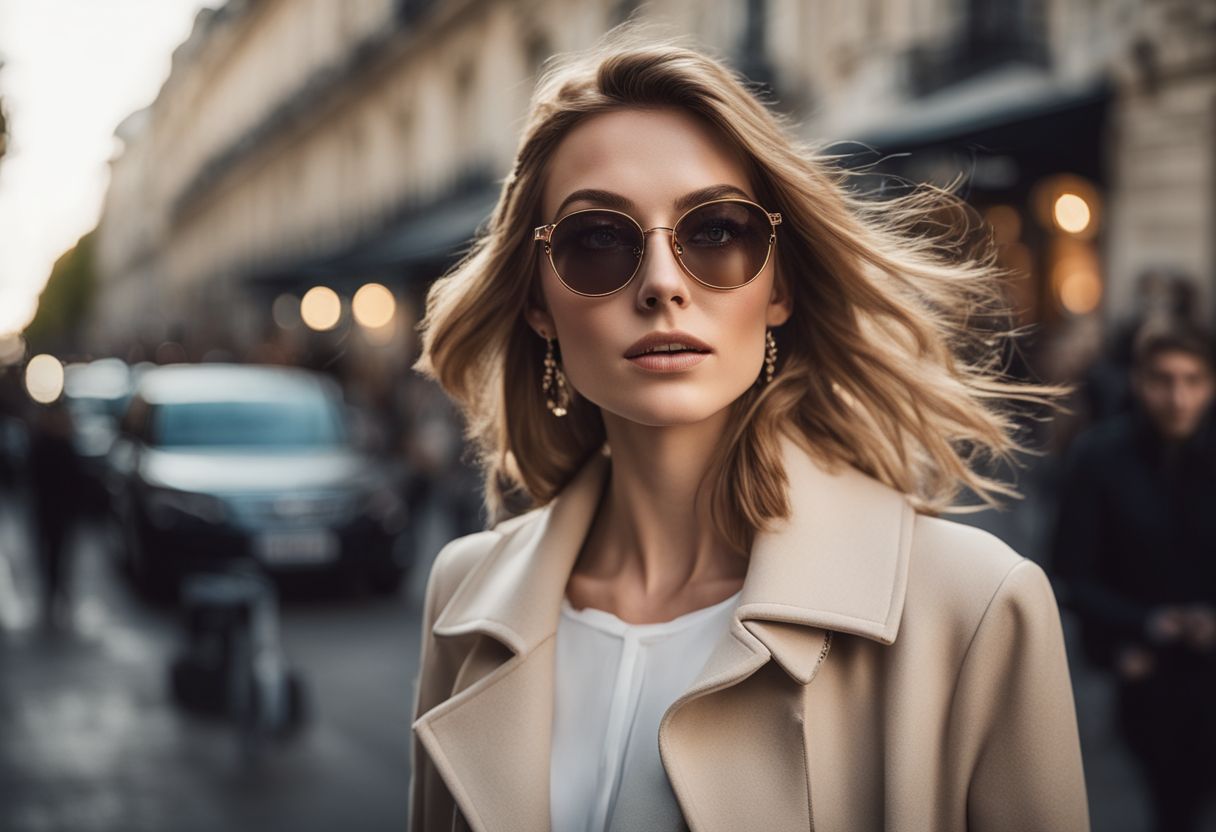 Dress comfortably yet elegantly to match the spirit of your luxury day trip, blending in effortlessly with the classy Parisian scene and enjoying unrestricted movement during your adventure.
Suggestions for attire that matches the comfort and elegance of your journey.
For your day trip to Paris, picking the right clothes can help you fit in with locals. Try wearing a skater dress. It will add style and comfort to your summer walk around the city.
You may also choose skirts or dresses with t-shirts and elegant blouses on warm days. If it's cool outside, put a chunky sweater over them.
Be careful not to dress too casual in Paris though! This city is known for its fashion love so should you be! A good pick from your closet could make your experience special. Lastly, use our handy packing list filled with style tips for an easy choice of what to wear.
Recommended Day Trips and Tours Packages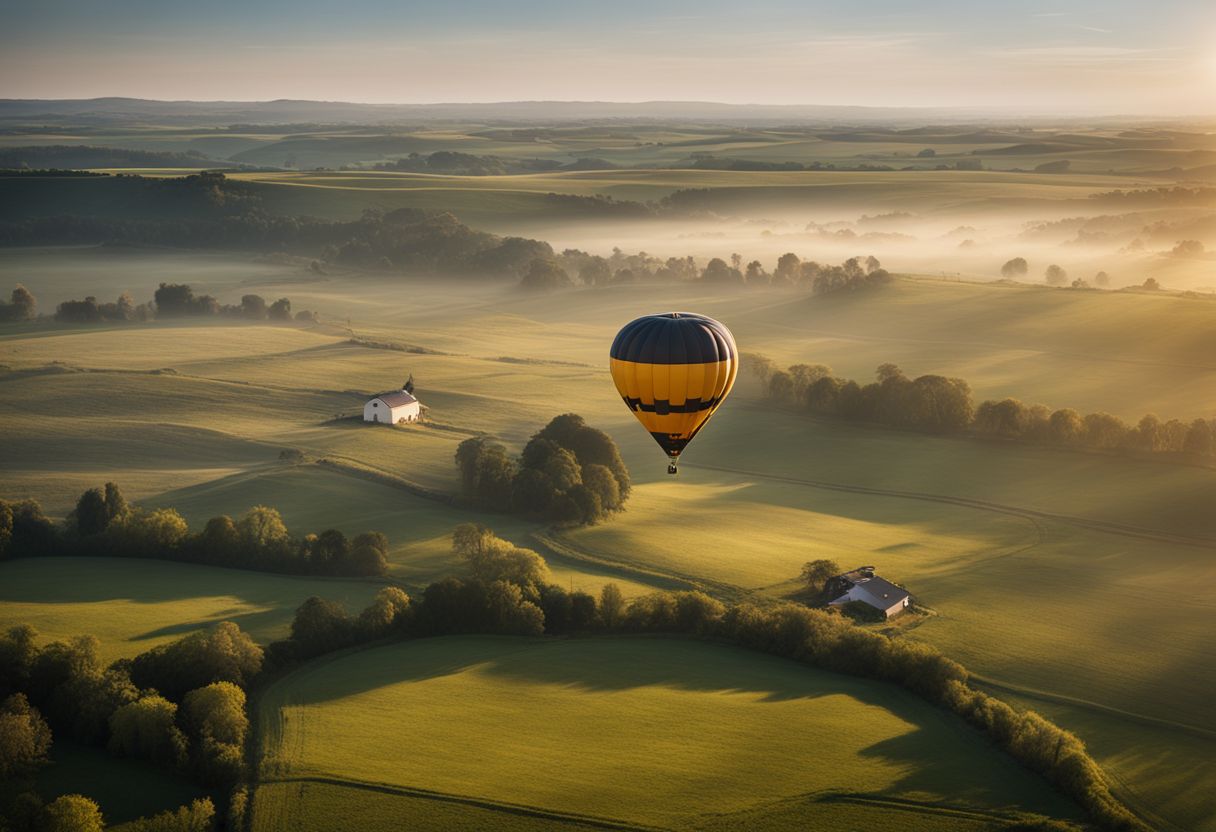 Explore the luxurious and dynamic options for your day trip to Paris with our expertly curated packages. Our Guided Luxury Day Trip even includes an optional lunch at the Eiffel Tower giving you a magnificent view of the city while dining.
For those who yearn to explore everything, opt for our Full-Day Private-Guided Car Tour, complete with a Seine River cruise, all assisted by your dedicated chauffeur ensuring comfort and convenience throughout.
Option 1: Guided luxury Paris day trip with optional lunch at the Eiffel Tower
Option 1 offers you the joy of a guided luxury day trip to Paris. You'll leave from St. Pancras International in London on a high-speed Eurostar train. On your ride, you will get an amazing view of the city's stunning scenes as we drive through it.
The grandeur of Eiffel Tower awaits too! At this famous site, there exists an optional treat waiting for those who like good food – a tasty three-course lunch under the Eiffel Tower itself! But don't forget about other parts of your tour: There is also a lovely cruise along Seine River included that provides another way to relish this charming city.
This option even has all transport needs covered throughout your journey for stress-free travel experience! Best yet, all are privately arranged so you can maximize every moment in Paris while basking in absolute comfort and top-notch service tailored just for you.
Option 2: Full-day private-guided Paris car tour, including a Seine River cruise, all facilitated by your dedicated chauffeur.
Our full-day car tour is a top pick. You get to explore Paris in an eight-seat Mercedes van, filled with creature comforts. Your skilled chauffeur-guide helps you every step of the way.
The journey brings you close to famous Parisian spots. You also get to boat on the Seine River and enjoy stunning city views. This can be yours for $1,207-$1,576 USD per trip. If one day isn't enough, we do offer multiple-day plans too! Be ready for an unforgettable VIP experience as you go from your stay place straight to exciting city landmarks!
Effortless Navigation: How We Make Getting Around Paris Easy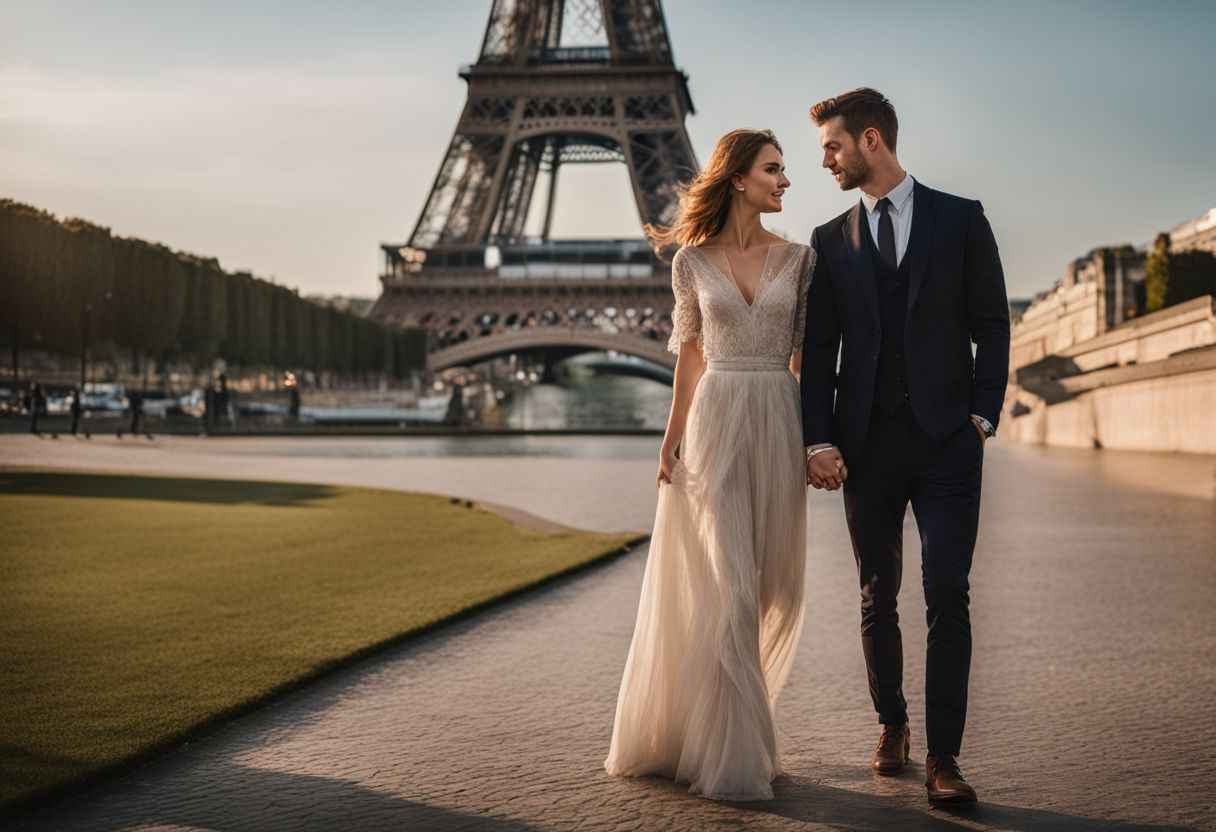 Our car service in Paris puts the city at your fingertips. We take you from place to place with ease. Whether you want to walk by the Seine River or visit a far-off spot, we got it covered.
Our drivers know Paris inside and out. They can whisk you away to any part of the city.
You don't have to worry about public transport maps or tickets anymore. Your guide takes care of all these details for you. You hop into our comfortable cars and relax while we handle everything else.
From pick-up at Gare du Nord to drop-off there, your trip is simple and smooth with us.
Conclusion
Select our premium Private Car Service Paris for your next day trip from London to Paris, and experience the many advantages of luxury travel. Enjoy the convenience that comes with door-to-door service, personal chauffeurs, and a custom itinerary designed just for you.
Now is the time to treat yourself—book your unforgettable journey with us today.
Why Choose Private Car Service Paris for Your Day Trip.
You can get a lot from the Private Car Service Paris when you go on your day trip. This service helps you move fast and easy in the city. You can get to all places in a short time than with public cars or buses.
Also, private car drivers know every part of the city well! They drive better so that you will not miss out on any cool place in Paris. The best part is they pick you up from your door and drop you back at it too! Getting lost or waiting for bus or train does not happen with this special service.
Benefits of luxury travel, including safety, convenience, and door-to-door service.
Start your trip right with luxury travel. Here are some reasons to book:
Safety first: Our luxury cars give a safe trip.
Time is gold: We get you there fast, so less time is spent on the road.
We have your back: We take care of each part of your trip from start to end.
Peace of mind: Our drivers know where they are going.
No more parking problems: Just step out of the car, we handle the rest.
Door-to-door service: Just like it says, we pick you up and drop you off at each stop.
VIP treatment: As a high profile traveler, enjoy perks not offered to others.
Expert advice is available all day: Ask us anything about your trip or need help deciding what to do next? We're here for you! With our door-to-door service, experiencing Paris has never been easier!
Ready to embark on your unforgettable Parisian adventure from London? Let's turn your daydreams into reality – start planning your day trip to Paris now!
Paris waits for you! Feel the magic, joy, and beauty of Paris. Book your day trip from London to Paris now. It's time you let us take care of every detail while you sit back in luxury.
Give Private Car Service Paris a call today! Enjoy the best way to see Paris in one wonderful day with us.
Why wait? The Eiffel Tower and Notre-Dame are calling your name. Booking is fast and easy with our service. Save your seat on the Eurostar train today! Come have an amazing day in Paris from London by trusting us with every step of this special journey.
FAQ
1. What is the best day trip from Paris to London?

The best day trip from Paris to London often depends on the individual's interests. However, our most popular day trip involves travelling from London St Pancras to Paris Gare Du Nord via the high-speed train that takes approximately 2 hours 15 minutes. Upon arrival, visitors often spend their day exploring landmark sites such as the Eiffel Tower and the Louvre, indulging in French cuisine, and sometimes even climbing the Eiffel tower for a breathtaking view of the tower.

2. Is it definitely worth to visit Paris for a day?

It is definitely worth taking a day to visit Paris. There's so much to see and do in the French capital that even one day in Paris can be a great way to get a taste of the city's ambiance. From the historical and architectural marvels to the scrumptious French culinary scene, you'll find something that captures your interest.

3. Are there any good Paris day tours from London?

Yes, there are a multitude of Paris day tours from London to choose from. These tours can provide a great way to experience the major cultural, historical, and architectural sights of the city. Many tours include transport from London St Pancras to Paris Gare du Nord, a sightseeing bus tour and some even include tickets to attractions such as the Louvre or the Eiffel Tower.

4. How many hours does a tour from London to Paris take?

A standard tour from London to Paris usually takes around 15 hours, starting with a very early morning Eurostar train from London St Pancras. Most tours then include a full day of sightseeing in Paris, returning to London late in the evening. The actual train travel time is around 2 hours 15 minutes each way on the high-speed train.

5. Can Disneyland Paris be included in a day tour from London?

Yes, Disneyland Paris can definitely be included in a day tour from London. Some tours specifically cater to this experience, transporting you directly to the park from the Paris Gare du Nord. These are a great way to see all your favourite characters and enjoy the