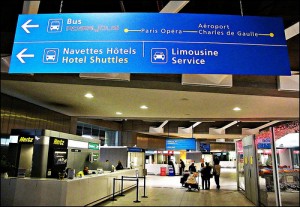 Reaching the end of a long overseas flight is a relief ‒ but it's not the end of your journey to Paris. You reach your destination only when you arrive safely at your Paris hotel. That's why it's so important to arrange for Paris airport transportation that meets all your needs with a minimum of fuss.
The city of Paris offers a wide variety of transportation options to choose from. Let's take a quick look at some of the possibilities available from Orly and Charles de Gaulle:
How to choose your Paris airport transportation
Orly or CDG transport to Paris via taxi
While taxi service is readily available from both airports, the cost of taxi transport is extremely unpredictable. Taxis in Paris start their meters as soon as they are dispatched, so you will pay for the distance between a taxi's current location and your airport pick-up spot. During rush hours, it's easy to get caught in our congested traffic ‒ where you'll watch the meter ticking away while you make little progress toward your destination.
Each piece of luggage beyond the first one in the taxi's trunk will incur an extra fee, and a fourth passenger adds a supplementary fee as well. Taxis also add surcharges for transport during evenings past 7 p.m., and all day on Sundays and holidays.
Prepare to pay your fees in Euros, as most taxis are unable to accept credit cards issued outside of the E.U. And be sure to have your destination written out correctly, since many Paris taxi drivers speak little or no English.
Transportation from CDG to Paris via shuttle
There are a great many private airport shuttle services available. You can share your shuttle with other passengers, or arrange in advance for private transport. Take care to know the limits of specific shuttle services, as some shuttles provide door-to-door service, while others have set drop-off points that will require you to walk, take the Paris Metro, or find a taxi to complete your journey.
When choosing a shuttle service, it is best to make advance arrangements ‒ and do some research before settling on your choice. While most shuttle services are efficient and competent, some are unreliable and may reschedule or delay pickup times after you have disembarked your plane.
From Charles de Gaulle via RER commuter train
Experienced visitors to Paris often recommend the quick and inexpensive RER express commuter train system for transport from CDG to Paris. For young people who are traveling light and know exactly where they are going, this is indeed a very viable option.
If you're traveling with heavy luggage, small children, or elderly or disabled companions, however, the RER can be quite intimidating. Uninitiated passengers often get large luggage pieces stuck in train turnstiles. Transferring from underground RER terminals to connecting aboveground metro lines often includes long walks and steep stairways, and depending on your hotel's location, you may have to transfer more than once to complete your trip.
Paris airport transportation via Private Car Services Paris
For travelers seeking a safe, reliable, and relaxing trip from Charles de Gaulle or Orly to their hotel, Private Car Services Paris is the perfect choice. Our fees are set, so no matter the time of your arrival, the amount of traffic to contend with, the number of passengers, or the amount of luggage involved, you know your costs ‒ and make your payment ‒ in advance by Paypal or Credit Card or directly to the driver.
At a price only slightly more than shuttle or taxi, you'll enjoy perfect privacy and comfort. Your driver will greet you at the airport and take you directly to your hotel, while you lean back, relax, and experience the sights and sounds of Paris. Begin your Paris adventure in stress-free luxury with Paris airport transfer from Private Car Services Paris!