✨Part 1: Introduction to Halloween in Paris 2023 with Private Car Service Paris✨
---
Experience Halloween 2023 in Paris with Elegance: A Guide to Luxurious Travel with Private Car Services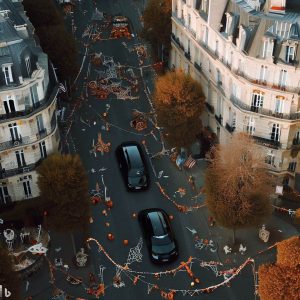 Paris, the City of Lights, transforms into the City of Frights every October. The rich tapestry of history, legends, and myths make it a perfect backdrop for Halloween celebrations. In this guide, we'll delve deep into the spooky heart of Paris, and with the luxury of Private Car Service Paris, you'll explore the city's haunted corners in style.
"Paris is not just a city; it's a world waiting to be explored, especially during Halloween. The streets whisper tales of ghosts, legends, and mysteries."
Halloween's Significance in Paris
Halloween, though not a traditional French holiday, has found its place in Parisian culture. The city's rich history adds layers of intrigue and spookiness to the celebrations. From haunted landmarks to ghost tours, Paris offers a unique Halloween experience. And what better way to navigate the city than with a luxury chauffeured service?
Paris Halloween Atmosphere.
Paris, renowned for its beauty, takes on a mysterious aura during Halloween. As night falls, tales of phantoms, goblins, and nocturnal creatures emerge, making it an ideal Halloween destination.
Halloween Celebrations in Paris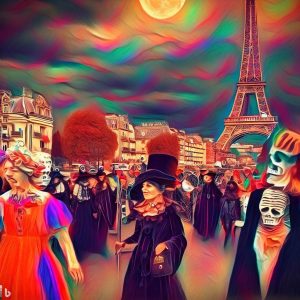 In Paris, Halloween is more than just a day; it's an experience. The city offers a plethora of events ranging from eerie ghost tours to thrilling haunted houses, ensuring a memorable Halloween for all.
Exploring Paris next Halloween with Private Car Service
Navigating Paris can be daunting, especially during the bustling Halloween season. But with Private Car Service Paris, you're promised convenience, luxury, and a seamless experience. Whether you're visiting the eerie catacombs or attending a late-night Halloween party, our chauffeurs ensure you travel in comfort.
✨Part 2: Hauntingly Beautiful Spots in Paris✨
---
Paris's Most Haunted: A Journey Through Time – (Spooky things to do in Paris)
Paris isn't just about the Eiffel Tower and romantic boat rides on the Seine. It's a city with a deep, dark past, and Halloween is the perfect time to explore its haunted history.
1. The Phantom of the Opera's Home: Palais Garnier
The legendary Palais Garnier opera house is not just an architectural marvel but also the home of the infamous Phantom of the Opera. Rumor has it that the phantom still roams the halls, especially during Halloween. Book a night at the opera, and perhaps you'll catch a glimpse of him!
"The Palais Garnier isn't just a venue; it's a portal to Paris's spectral past."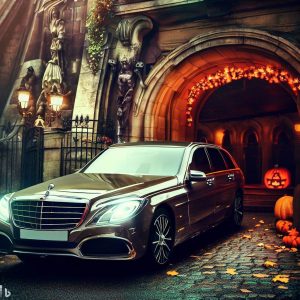 2. The Eerie Catacombs
Beneath the bustling streets of Paris lies a macabre underworld. The catacombs, with walls lined with skulls and bones, offer a chilling journey into the city's past. And if you're wondering how to get there, Private Car Service Paris offers a luxurious ride right to the entrance.
3. Mystical Graveyards in Paris. Père Lachaise Cemetery
Paris's cemeteries, like Père Lachaise and Montmartre, are not just resting places but are also believed to be hubs of supernatural activity.
This famous cemetery is the resting place of many notable figures, including Jim Morrison and Oscar Wilde. But during Halloween, it's said that the spirits of the departed walk among the living. Don't forget to check out our best spots guide for more haunting locations in Paris.
4. The Vampire Legends of Paris
Vampire tales have long been a part of Parisian folklore. Today, one can explore places like the Musée des Vampires and the Catacombs, believed to be frequented by these nocturnal beings.
5. Wander the Luxembourg Gardens after dark, where whispers of Marie Antoinette's ghost linger.
6. Spooky Halloween Events in Paris
Paris boasts a variety of Halloween festivities:
Embark on the Paris Ghost Walk, revealing the city's most haunted corners.
Revel in the Paris Halloween Festival in the Marais district, complete with entertainment, food, and music.
7. Haunted Houses in Paris.
Experience chills in Paris's haunted houses, designed to terrify.
For the bravest souls, Paris offers haunted houses, each promising a unique blend of horror, special effects, and spine-chilling encounters.
8. Witchcraft in Paris
Legends of witches have also found their place in Paris's history. Locations like the Place de la Bastille and Luxembourg Gardens are said to be haunted by these mystical entities.
---
✨Part 3: Halloween Events and Parties in Paris✨
---
Celebrate Halloween in Parisian Style.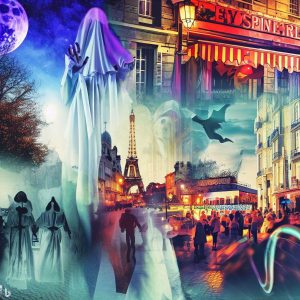 Delve into the Musée des Vampires, a sanctuary for vampire enthusiasts.
Parisians know how to throw a party, and Halloween is no exception. From grand masquerade balls to spooky club nights, there's something for everyone.
Fashion Week's Spooky Side
Did you know that Paris's Fashion Week sometimes coincides with Halloween? Designers often incorporate Halloween themes into their shows, making it a glamorous yet eerie experience. And with our chauffeured service, you can arrive at the venue like a true fashionista.
Ghostly Tours and Mysteries
Paris's rich history is intertwined with ghostly legends. Ghost tours guide visitors through eerie sites like the Catacombs and Père Lachaise Cemetery, unveiling chilling tales.
For those who love a good scare, Paris offers ghost tours that take you through its haunted history. Explore the city's dark alleys, hear tales of its ghosts, and uncover mysteries that have remained unsolved for centuries. Our blog has more details on these tours.
Special Overview of the Disney Halloween Festival 2023
As October dawns, Disneyland Paris transforms into a realm of enchantment and spookiness. The park, renowned for its magical aura, takes on a Halloween twist, ensuring visitors an experience that's both thrilling and unforgettable. If you're planning to dive into this magical world, consider reaching the park in style with our luxury chauffeured service.
"In Disneyland Paris, every corner whispers tales of magic and mischief."
Unique Attractions and Events
This year, the park introduces a series of new attractions tailored for the Halloween season. From haunted mansions to spine-chilling rides, there's something for everyone. And for those who love parades, the special Halloween parade is a sight to behold. Characters dressed in their spooky best, dancing to eerie tunes, promise a spectacle like no other.
Making the Most of Your Experience
To ensure you make the most of your Halloween experience at Disneyland Paris, here are a few tips:
Plan Ahead: Check out the official schedule to know about the timings of special shows and events.
Stay Connected: With our mobile services, you can book rides, get updates, and navigate the park with ease.
Travel in Comfort: After a day of fun and frolic, travel back to your hotel in the comfort of our luxury cars.
For a magical Halloween experience, head to Disneyland Paris. The park gets a spooky makeover, with special parades, shows, and of course, trick or treating. Need a ride? Book now with Private Car Service Paris.
Dark Secrets of Paris: Guided Walking Tours
Paris, the city of love, has its share of dark tales. And what better time to explore these than Halloween?
Introduction to the Dark City Secrets Walking Tour
Unearth the chilling tales of Paris with the Dark City Secrets Walking Tour. This guided tour takes you through the lesser-known alleys and landmarks, each echoing tales of mystery and horror. And the best part? With Private Car Service Paris, you can reach the starting point of the tour without any hassles.
"Every brick in Paris has a story to tell, some darker than the others."
The Sinister Side of Central Paris
Central Paris, with its grand boulevards and iconic landmarks, hides secrets in plain sight. From sites of public executions to haunted hotels, the tour promises a thrilling experience. Dive deep into stories of the past, understand the significance of these sites, and get a glimpse into the Paris that's often left unexplored.
Historical Sites and Their Significance
Paris's history is rich and varied. The sites of public executions, for instance, are not just about the macabre. They offer insights into the city's past, its justice system, and the events that shaped its present. To delve deeper into the city's history, check out our curated list of the best museums in Paris.
✨Part 4: Gourmet Halloween Treats in Paris✨
---
Halloween Culinary Delights in Paris
A Feast for the Ghouls: Paris's Halloween Delicacies 
When in Paris, one must indulge in the culinary delights the city has to offer, especially during Halloween. The city's patisseries and cafes go all out, crafting spooky yet delicious treats
Bewitched Macarons
Paris is renowned for its macarons, and during Halloween, these delicate treats get a spooky twist. Think blood-red raspberry fillings and ghostly white chocolate ganache. For recommendations on where to find the best macarons, check out our guide on best spots.
"In Paris, even the macarons dress up for Halloween."
Ghastly Gastronomy
Several of Paris's best restaurants curate special Halloween menus. From pumpkin soups to bat-shaped foie gras terrines, the city's culinary maestros ensure a feast fit for the undead.
Elixirs and Potions
No Halloween celebration is complete without some bewitching beverages. Paris's bars and cafes concoct special drinks for the occasion. Whether you're in the mood for a blood-red cocktail or a warm pumpkin latte, the city has you covered. For the best places to grab a drink, visit our best spots page.
Paris, often hailed as the culinary capital of the world, doesn't disappoint during Halloween. The city's cafes, patisseries, and restaurants offer a delightful array of Halloween-themed treats and dishes.
Ghoulish Gourmet
From pumpkin soufflés to ghost-shaped macarons, Parisian chefs showcase their creativity during Halloween. The city's renowned patisseries transform into a haven for dessert lovers, with treats that are as delicious as they are visually appealing.
"In Paris, Halloween is not just a feast for the eyes, but also for the palate."
Themed Dining Experiences
Several restaurants in Paris offer themed dining experiences during Halloween. Imagine dining in a haunted mansion setting or enjoying a meal in a candle-lit crypt. For recommendations on where to dine, our guide to the best hotels and restaurants in Paris can be your perfect companion.
Wine and Bewitch
Parisian vineyards and wine shops often host wine tasting events with a Halloween twist. From blood-red wines to spooky labels, it's an experience that wine lovers wouldn't want to miss. And if you're looking to explore vineyards outside Paris, our private car tours offer a luxurious experience.
Halloween Shopping in Paris
Paris, the fashion capital, ensures that shoppers have a plethora of options during Halloween. From costumes to decor, the city's boutiques and markets are a shopper's paradise.
Costume Hunting
Whether you're looking for a classic witch costume or something avant-garde, Parisian boutiques offer a wide range. For those who prefer bespoke costumes, several designers offer custom-made services. And to ensure you shop without any hassles, our luxury chauffeured service is at your disposal.
Decor and More
Parisian markets are filled with unique Halloween decor items during October. Handcrafted lanterns, vintage broomsticks, and artisanal candles are just a few of the treasures you can find. For recommendations on the best markets to explore, our best spots guide can be handy.
Halloween Souvenirs
Take a piece of Parisian Halloween back home with unique souvenirs. From themed trinkets to artisanal chocolates, there's something for everyone. And if you're flying out of Paris post-Halloween, our airport transfer services ensure a seamless journey.
The Parisian Nightlife: Halloween Edition
When the sun sets, Paris truly comes alive, especially during Halloween. The city's nightlife transforms, offering experiences that are both thrilling and enchanting.
Haunted Pub Crawls
Join the locals and tourists alike in a haunted pub crawl. Explore some of the city's oldest taverns and bars, each with its own ghostly tales. Sip on Halloween-themed cocktails as you listen to spine-chilling stories from the past. And if you're wondering how to navigate the city's nightlife, our mobile app offers real-time assistance.
"In the heart of Paris, every corner has a story, and every tavern has a ghost."
Themed Nightclubs
Parisian nightclubs go all out during Halloween. From eerie decors to DJs dressed as ghouls, the experience is electrifying. Dance the night away in your best costume and stand a chance to win exciting prizes. For a list of the best nightclubs to visit, check out our blog.
Luxury Halloween Cruises
Experience Halloween on the Seine with luxury cruises. Dine under the stars, enjoy live entertainment, and witness the city's landmarks illuminated in spooky hues. And for a seamless journey to the cruise terminal, our limousine service promises unmatched luxury.
---
✨Part 5: Safety Tips and Luxury Rides✨
---
Ensuring a Safe and Luxurious Halloween in Paris
While Halloween in Paris is a magical experience, it's essential to ensure safety during the festivities. And of course, travel in style.
Stay Safe
While Paris is generally safe, it's always good to be cautious, especially during crowded events. Stick to well-lit areas, keep an eye on your belongings, and always inform someone of your whereabouts. For more safety tips, check out our reviews and testimonials from satisfied customers.
Luxury Rides with Private Car Service Paris
Why walk when you can ride in style? Whether you're heading to a Halloween party or a haunted tour, our limousine service ensures you arrive in style and comfort. With professional chauffeurs who know the city inside out, you're in safe hands.
Stay Connected
In the age of technology, it's essential to stay connected. Whether you need to book a ride, find a restaurant, or simply navigate the city, our mobile services ensure you're always just a click away.
---
Conclusion: Halloween in Paris – A Mesmerizing Experience
Halloween in Paris is not just a day; it's an experience. From the magical realms of Disneyland Paris to the dark secrets hidden in the city's alleys, every moment is filled with wonder. The city, with its rich history and vibrant culture, offers a unique blend of traditional and modern celebrations.
Whether you're a thrill-seeker, a food lover, or someone looking for family-friendly activities, Paris has something for everyone. And with Private Car Service Paris, you can explore the city in style and comfort.
So, pack your costumes, brush up on your French Halloween phrases, and get ready for a mesmerizing journey in the City of Lights. Paris awaits!